Rangers Int'l FC's CEO calls for improved performances
Posted : 26 August 2023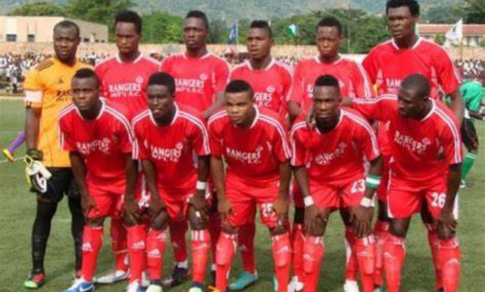 Rangers International F.C's newly appointed G.M/CEO, Barrister Amobi Ezeaku, has charged staff of the club to improve their performances so as to help the club achieve its set target of becoming one of the most admired and followed club in the African continent and the world at large.

Making his first official contact with staff at the club's corporate head office, G.R.A, Enugu, on Thursday, the youthful administrator called for cooperation, diligence, and dedication to duty from all members of staff of the corporation as he believes that these virtues will go a long way to help the club realize its set goals.

The new helmsman of the 'Flying Antelopes' after being introduced by the Administrative Secretary, Barrister Ferdinand Ugwuarua to members of staff, thanked everybody for holding on and flying the flag of the club very high.

``It gives me the joy to be back here in Rangers and I thank God who made everything possible as well as thank Enugu state governor, H.E, Dr. Peter Mbah for his government's belief in my capability to lead this great club, Rangers International F.C. 

``My return is for good and I urge us all to rededicate and re-double our efforts in our duties to help take our club to the desired heights."

Later in the day, the G.M/CEO had an audience with players, coaches, and backroom staff of the club at the Players' Camp, Independence Layout, Enugu, where he challenged all to up their game to ensure that Rangers celebrate with trophies at the end of 2023/2024 football season.

"Sincerely, I am very happy to be in your midst, and with the calibre of players I see here with the quality of coaches on the ground, I am optimistic that we shall celebrate at the end of the soon-to-be football season. 

``Even as I don't doubt your individual qualities I charge you to work as a team. Cooperate in everything you do so that we can come out tops in every match we play and at the end, success shall be ours," stated the UEFA and FIFA Masters certificate in club administration, holder.

Coach Gabriel Ezema who spoke on behalf of the coaching crew led by Fidelis Ilechukwu promised the new club boss that all would be done to ensure that all targets set by the club were met while captain of the side, Chukwudi Nwaodu, in reacting to the charge, welcomed and thanked the new G.M/CEO and promised that the footballers will do all in their powers to ensure that Rangers regains its pride of place in both domestic, continental and world football.

Recall that Enugu state governor, on Wednesday, August 23, announced Barrister Amobi Ezeaku as the new General Manager and CEO of Rangers International F.C.