PSV Eindhoven 5-1 Rangers: Beale discusses Rangers' disappointing second half performance, causing loss of Champions League group stage hopes
Posted : 31 August 2023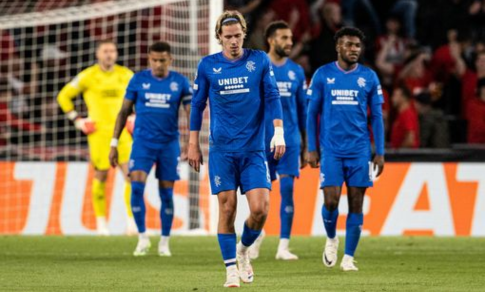 Amidst a critical five-day period that could significantly impact his tenure as Rangers manager, Michael Beale offered a remarkably candid assessment. Following a disheartening second half performance in Eindhoven, he acknowledged, "For this team, this game came far too soon, that's what's clear."
 
Beale's squad had endured a disheartening display in the latter half against PSV Eindhoven, leading to the abrupt demise of their aspirations for consecutive Champions League group stage campaigns.
 
As PSV relentlessly pressed forward and their passionate supporters cheered them on, Rangers appeared ill-equipped to counter the onslaught, barring a few remarkable saves from Jack Butland.
 
PSV's prowess was evident as they secured a 5-1 victory on the night, sealing a 7-3 aggregate win. Meanwhile, Rangers fell notably short of their opponents' performance. This raised the question: Why?
 
Scottish football has witnessed a peculiar phenomenon where the season's most significant matches for the Old Firm often occur in the initial weeks—typically Champions League qualifiers or early derbies.
 
Throughout this year, Beale had emphasized the need for overhauls and preparations specifically tailored for these critical matches. Surprisingly, Rangers were unprepared for the PSV clash, as admitted by Beale himself.
 
Despite the arrival of nine new players during the summer transfer window, only three were named starters in Eindhoven—Butland, Jose Cifuentes, and Cyriel Dessers. Three more—Sam Lammers, Danilo, and Dujon Sterling—entered the game as substitutes.
 
Neil McCann, former Rangers forward turned Sportsound pundit, remarked, "We are at the back end of August; these guys should be starting to show why they were brought to the team." He went on to assert, "Michael has to nail down a formation and say: 'Right, these are the guys I'm choosing and this is how I'm going to play.'"
 
Echoing this sentiment, Steven Thompson, McCann's former teammate at Ibrox, stated, "A manager's dream is a team that picks itself. Right now, Beale doesn't know his best team and it's going to take a while to work that out."
 
Thompson highlighted the challenge ahead: "It's a lottery at the minute and it's a problem he's going to need to work out quickly because in the meantime, there are massive, massive games coming up." None loom larger than Sunday's clash against Celtic at Ibrox.
 
Despite Beale's earlier declaration of this week being "hugely exciting," his focus may have shifted to the forthcoming weekend with a measure of concern. As Sunday's encounter approaches, he must ensure that this Rangers team is adequately prepared, without the fixture arriving "too soon" for them.