Optima Energy Gold Cup pre-season tournament: Beyond Limits Academy zooms into final
Posted : 18 August 2023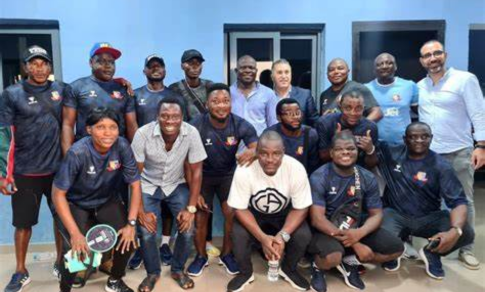 Beyond Limits Academy on Thursday made history as they beat former champions and 10-man Niger Tornadoes 3-1 to qualify for their first Optima Energy Gold Cup pre-season tournament final in three attempts.

The Young Sky Blue Stars were the only team in the tourney with a 100 per cent win record; having gone unbeaten in the group stage and semi-final scoring a total of 12 goals and conceding two, leaving Biliaminu Abdullahi in the race for the top scorers award with four strikes.

In the first last four game on Thursday morning, newly-promoted Nigeria National League (NNL), Beyond Limits Academy did much of playing in the opening 20 minutes, making the most of their pace and hitting the woodwork once, with six shots on target, while Tornadoes were clinical in defending.

Aliko Mustapha showed why he is still a top quality shot stopper in Nigeria Premier Football League, as he denied Beyond Limits their first real goal in the 22nd minute.

Tornadoes rock-solid defence was however broken in the 34th minute as Beyond Limits were rewarded with their first goal with a tap in from Obasi Onyebuchi, after Aliko had spilled his save from Ganiyu Adio's ferocious low drive cross into his path. 

It could have been a second goal for Obasi in the 38th minute but his effort on the ball in the box from an assist from Muideen Olude was heavy,  thus leaving Aliko to pick the ball easily.

Beyond Limits then took the one goal into the break, leaving Tornadoes backroom staff looking for another game plan on how to come back into the game.

Six minutes from the one hour mark, the Ikon Allah exhibited Premier League stuff after they came back to level terms, with substitute Bolaji Adeyemo scoring with a brilliant finish to beat Daniel Ayenugba in goal for Beyond Limits.

It was a tough one for Tornadoes in the 78th minute, as Beyond Limits reclaimed the lead with a tasty well planted header by Shina Ayodele following a well tailored cross from Dadius Ogunniyi.

The scoreline became 3-1 in the 84th minute, as Shina bagged a brace with a simple tap in after Obasi dropped behind the line to set up the last man standing.

Things got worse for the NPFL side with three minutes left to play as Aliko Mustapha was shown a red card for dissent.

They will await the winner of the second semi-final game between Shooting Stars and Ijebu United for a thriller at the Remo Stars International Stadium on Saturday.