Ogun team beat Kwara to win YSFON's MKO Abiola Under-18 Boys Cup
Posted : 04 September 2023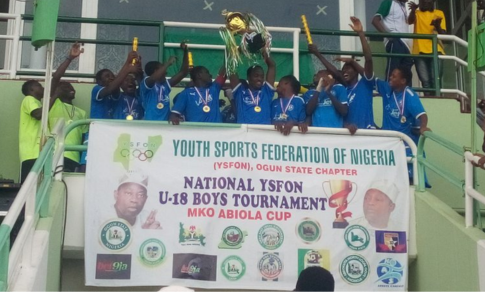 The 2023 National YSFON Under-18 Boys Football Tournament for the MKO Abiola Cup was claimed by the host team, Ogun in Abeokuta. They secured victory by a narrow margin, defeating their Kwara counterparts 1-0 in the final match held at the MKO Abiola Stadium.
 
The winning goal came in the fifth minute when Ariehi Kparopo found the back of the net. Despite an early lead that hinted at a potential one-sided victory, Ogun faced determined resistance from the Kwara team, who had the opportunity to turn the game in their favor.
 
Earlier in the day, the Edo team secured a 2-1 victory over their counterparts from Kaduna State, earning them third place in the tournament.
 
At the conclusion of the competition, Kparopo received the top scorer award for his impressive five-goal tally, while his teammate Muhyideen Olude was named the best player. The best goalkeeper award was presented to Adisa Nurudeen of Kwara.
 
Twelve teams, representing the country's various geo-political zones, participated in this competition organized by the Youth Sports Federation of Nigeria (YSFON), with the exception of the South-East. The group stage, quarter-final, and semi-final matches took place at the Dipo Dina Stadium in Ijebu-Ode, while the final and third-place matches were held at the MKO Abiola Stadium in Abeokuta.
 
The event was graced by former internationals and other retired footballers, including Kadiri Ikhana, Toyin Ayinla, Tajudeen Disu, Austin Popo, Biodun Odejimi, and Kola Taiwo.