NYG 2023: Lagos quest to win Football event gathering momentum
Posted : 27 September 2023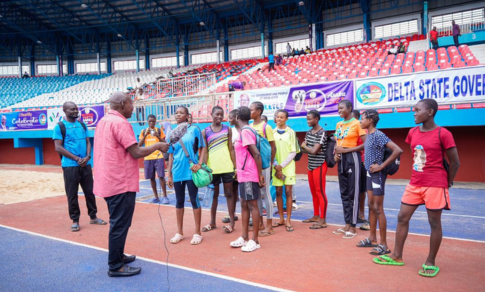 Team Lagos State is now few distance away in capturing a gold brace in the football event of the ongoing 7th National Youth Games (NYG) as both male and female team romp into the semi-final of the event.

The Team Lagos girls have qualified for the final and are set to battle their southwest rival Ogun State in a potentially thrilling South-West derby at Stephen Keshi Stadium on Friday, while the boys will fancy their chances against Kaduna in the semi-finals at the same venue on Thursday.

A win for the Team Lagos boys against their Kaduna  counterparts will see Lagos State striving for gold in the final of both events on Friday, which means Nigerian football has finally returned home.

Both teams delivered stellar performances on Tuesday to reach these stages, with the girls dispatching Cross River State 2-0 in the semi-finals, while the boys achieved the same result against Enugu State, who surprisingly made it to the stage after losing 2-1 to Lagos State two days earlier.

The feats achieved by Lagos State did not come as a surprise, knowing the enormous work the Fouad Oki-led Lagos Football Association put into the selection of the players and preparation for the games.

It started with an open screening of players at the Mobolaji Johnson Arena in Onikan, Lagos. 

The open screening was without favouritism as players were all picked on merit.

The players who thronged the venue daily during the week-long exercise were given ample time to prove their mettle, with their skills being their only mouthpiece.

On the back of the immensely successful exercise were extensive camping exercises at Teslim Balogun Stadium and Lekki, with the boys team participated in the 2023 MKO Abiola Cup in Abeokuta within the period of camping.

The tournament organised by the Youth Sports Federation of Nigeria (YSON) featured U-18 players, which saw the U-15 boys punch above their weight, and this they did admirably by rumpling feathers up to the quarterfinals.

Both teams' superb showing in Asaba is borne out of an orchestrated plan by the current Lagos State Football Association Board to enhance grassroots football by ensuring a level playing field for budding talents that pervade the state.

It's already a win-win for LSFA, with both teams reaching the medal zone in Asaba, and winning gold in both events will be the icing on the cake.

The progress made by the new LSFA Board in its short time of existence was intentional and not happenstance.