Northern Ireland's Euro 2024 qualifier misery continues with 1-0 defeat to Kazakhstan
Posted : 10 September 2023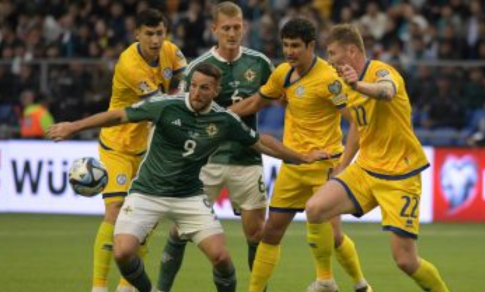 Northern Ireland's woes in the Euro 2024 qualifiers continued as they suffered a 1-0 defeat against Kazakhstan, marking their fifth consecutive loss. The game in Astana was characterized by a splendid first-half goal by Maxim Samorodov, which ultimately proved to be the deciding factor in a rather uneventful and tightly contested match.

Conor McMenamin had a golden opportunity to level the score for Northern Ireland before halftime, but he couldn't convert. In the second half, Conor Washington also had a shot saved, further frustrating the visiting team.

Northern Ireland's Euro 2024 qualifying campaign has been plagued by difficulties, as they have accumulated only three points from their first six Group H matches. Their chances of reaching the finals in Germany next summer have become exceedingly slim, with them currently trailing the group leaders by nine points and only four matches left to play.

Manager Michael O'Neill, who returned for a second tenure in charge, initially had high hopes for a favorable qualifying group. However, a string of injuries to key players has derailed their campaign, resulting in five consecutive losses since their opening victory against minnows San Marino.

Injuries continued to haunt the team, with 12 players sidelined for the match against Kazakhstan and up to 17 players missing at various points during the qualifying campaign.

In contrast to their more attacking and occasionally chaotic performance in the 4-2 defeat to Slovenia earlier in the week, where defensive mistakes were costly, Northern Ireland adopted a disciplined and compact approach against Kazakhstan. They managed to control the game for the most part, with Samorodov's exceptional goal in the 27th minute being the lone shot on target in the first half.

Samorodov's goal displayed excellent technique and finishing as he received a pass, turned inside 25 yards from goal, and executed a precise low drive that beat Daniel Ballard and found the bottom corner of the net, leaving goalkeeper Bailey Peacock-Farrell with no chance.