Nigeria wins silver at U21 Nations Beach Volleyball Championship
Posted : 31 August 2023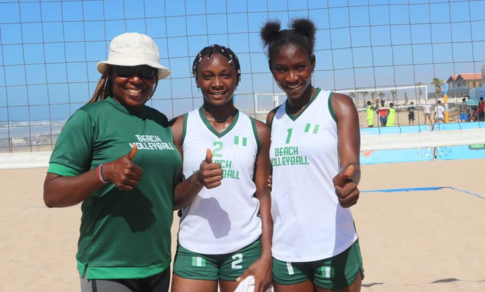 Nigeria women's team settled for a silver medal at the just concluded 2023 CAVB U21 Beach Volleyball Championship in Morocco on Wednesday.

Host Morocco beat Nigeria 2-1 (13-21, 21-15, 18-16) in a highly intense match at the beach resort in Casablanca.

Nigeria started the first set on a bright note, beating the host 21 to 13 points in less than 20 minutes of play. Host Morocco mobilised fans who were instrumental to their victory in the second set. 

In the third set, Morocco led Nigeria till the 14th point before Nigeria got two crucial points to tie at 14 to 14 points. Nigeria led by 16 to 15 points before Morocco picked three points to emerge in the Champions of the women's category.

Nigeria head coach for the tournament, John Iwerima showered encomium on his players despite their inability to lift the title.

He said the girls still have the opportunity of ruling the world if the pair is retained.

"I'm so proud of the girls, to come in and play like we did tonight not only against the Moroccans but the crowd. We had every opportunity to get it done. Unfortunately, we couldn't quite get it done.

"We had chances of snatching the victory in the third set but it eventually went the way of the host country.

"The mentality of the team throughout the championship is incredible. The girls fought throughout the championship and I am very grateful for the opportunity to lead these players to the championship.

"The chemistry together is unbelievable. As long as we have that, we can beat anybody in the near future."

The President of Nigeria Volleyball Federation, Engineer Musa Nimrod, celebrated the beach volleyball team for their impressive outing.

Nimrod said the girls demonstrated tenacity and put up a good fight in the match against Morocco having stretched the game into the third set.

He said, "I said earlier that the girls have all it takes to stand out at the African Beach Volleyball Championship. Indeed, their performance against the Moroccans confirmed this. 

"Our girls flew the flag of Nigeria beautifully high with their sterling performance against all their opponents. They put up a good fight in the final and they are worth every celebration."

Meanwhile, Nigeria men's beach volleyball team finished fifth position at the just concluded 2023 CAVB U21 Beach Volleyball Championship.

Both teams have qualified for the 2023 FIVB U21 World Beach Volleyball Championship in Thailand.