Napoli's title defense stumbles as Osimhen's outburst adds to coach Garcia's woes
Posted : 26 September 2023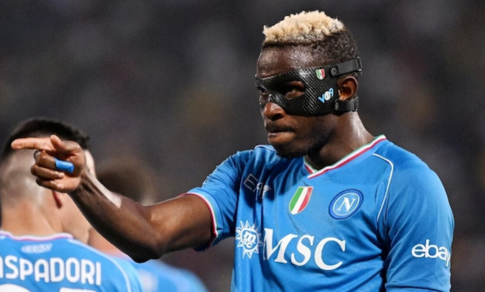 Napoli's Serie A title defense has hit a rough patch, marking their worst run of form in 17 months. Coach Rudi Garcia is under increasing scrutiny, facing criticism not just from fans and the media but also from his own players.

The recent incident involving Victor Osimhen's angry reaction to being substituted during Sunday's 0-0 draw against Bologna has intensified the pressure on Garcia. Napoli's next challenge is a home match against Udinese on Wednesday.

In the match against Bologna, Napoli had a pivotal moment when they were awarded a penalty in the 72nd minute. Victor Osimhen, last season's top scorer and a key figure in their Scudetto triumph, stepped up to take the penalty but missed.

Shortly after this, Osimhen was substituted, and his reaction towards Coach Rudi Garcia was visibly frustrated, shaking his head and gesturing. This incident capped off a frustrating day for Osimhen, who had earlier hit the post. Napoli's winless streak extended to three games, and they now find themselves seven points behind league leaders Inter Milan.

Garcia's appointment as Napoli's coach after Luciano Spalletti's title-winning season raised eyebrows, and he has yet to prove himself capable of replicating that success.

Osimhen's outburst follows a similar incident involving Khvicha Kvaratskhelia in the previous game against Genoa, highlighting growing frustrations within the team. The discontent has also spilled into the stands, with club owner Aurelio De Laurentiis' tweet causing controversy after the Bologna draw, sparking the #GarciaOut hashtag on social media.

The Italian media has also been critical, with Gazzetta dello Sport stating that "Napoli have fallen apart," and Corriere della Sera suggesting that "defending the Scudetto is mission impossible at the moment."

However, both Garcia and team captain Giovanni Di Lorenzo attempted to address the situation, emphasizing that these issues should be resolved internally.

Napoli now aims to turn their season around with the upcoming match against Udinese. Their recent Serie A performances, including a loss to Lazio and draws with Genoa and Bologna, have been far from their best.

Fortunately, facing winless Udinese, who have struggled to score goals and secure points, might be an opportune moment for Napoli to regain their form. Reports suggest that Osimhen has apologized and will not face a fine from the club, offering hope that he can rediscover his scoring prowess after a four-game drought.

Napoli's upcoming fixtures include a match against Lecce before resuming their Champions League campaign with a home game against Real Madrid on October 3rd.