Messi and Inter Miami win League Cup
Posted : 20 August 2023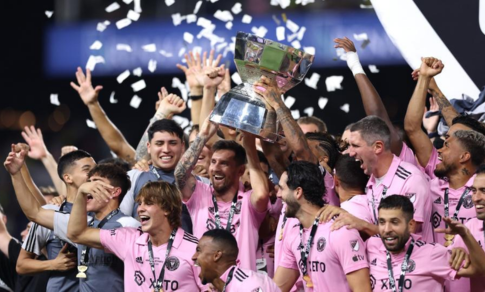 In a thrilling encounter, Inter Miami emerged victorious in the League Cup final by defeating Nashville 9-10 in a penalty shootout. This triumph marked a historic moment for the team, as it secured its first-ever title since its establishment in 2018. The driving force behind this achievement was none other than "The Flea" himself, Leo Messi, who continued his remarkable streak of success since joining the Miami side.
 
Messi's influence was undeniable as he netted his seventh goal for Inter Miami during the match, displaying his scoring prowess with a remarkable strike from just outside the penalty area in the 57th minute. Despite his contribution, Fabrice Pico managed to equalize for Nashville, resulting in a 1-1 draw at the end of the regulation time and leading the game to a penalty shootout.
 
In the high-stakes shootout, the experienced veterans of Inter Miami, including Messi, Sergio Busquets, and Jordi Alba, showed their composure under pressure and led the team to victory. Notably, Nashville's goalkeeper, Elliot Paniko, who had previously saved a penalty, missed the decisive kick, sealing Miami's win.
 
As a testament to his exceptional performances, Messi was rightfully named the Most Outstanding Player of the tournament. His impact has been profound, having scored in each of the seven games he has played for Inter Miami, accumulating an impressive tally of 10 goals and an assist.
 
By clinching this victory, Messi added another remarkable milestone to his illustrious career. With a total of 44 titles across various teams, he broke the record for the most titles won by a single player. This achievement surpassed the previous record held by Dani Alves, who boasted 43 titles. Additionally, Messi extended his lead in the record for goals scored in finals, with an astonishing 35 goals. Pele follows behind with 31 goals, while Cristiano Ronaldo is in third place with 22.
 
The triumph in the League Cup final marked just one step in Inter Miami's journey towards further success. The team will soon face Cincinnati in the Cup semifinals, aiming to secure another title. Additionally, their return to MLS competition is scheduled with an away match against the New York Red Bulls. Currently situated in last place in the Eastern Conference with 18 points from 22 league games, Inter Miami is determined to continue their upward trajectory.