Manchester United 3-2 Nottingham Forest: Manchester United recover from deficit, secures thrilling victory
Posted : 26 August 2023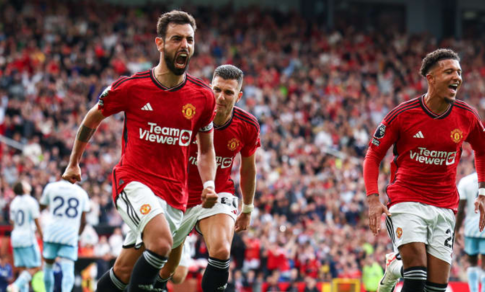 Manchester United staged a remarkable comeback against 10-man Nottingham Forest at Old Trafford, recovering from a two-goal deficit to secure a thrilling victory. In a historic Premier League match, United found themselves trailing by two goals within the opening four minutes due to goals from Taiwo Awoniyi and Willy Boly. Christian Eriksen's goal and Casemiro's equalizer brought United back into the game.
 
Bruno Fernandes, highlighted by manager Ten Hag for his inspirational leadership, played a pivotal role as captain, guiding his team's efforts for a comeback. Forest's Joe Worrall was shown a red card, providing United with a numerical advantage. Despite failing to capitalize on the ensuing free-kick, Fernandes remained composed and scored the winning goal in the 76th minute after a Rashford-earned penalty.
 
Although United's squad concerns were not fully alleviated, the victory was a positive outcome, particularly with several key players sidelined due to injury. The team displayed resilience and character reminiscent of past comebacks at Old Trafford.
 
While the victory was encouraging, United's vulnerability in central defense was exposed during Forest's counterattacking goals. Awoniyi's breakaway and Boly's free-kick highlighted defensive lapses, indicating areas for improvement.
 
The match also shed light on potential shifts in the team dynamics, as Ten Hag deployed Harry Maguire on the bench and adjusted the positioning of central defenders. Despite assurances about Maguire's status, the changes raised questions about his role in the team.
 
Forest's Morgan Gibbs-White's performance stood out, justifying his transfer fee with impressive movement and creativity. He was integral to Forest's early goals, showcasing his ability to find space and create opportunities. His contribution was highly regarded, even though Forest could not maintain their lead.
 
In conclusion, Manchester United's comeback victory demonstrated their resilience and determination, overcoming a two-goal deficit to secure three points against Nottingham Forest. Despite defensive vulnerabilities and lingering squad concerns, the win showcased the team's potential and ability to turn the tide in challenging situations.