Manchester City win 1-2 over Sheffield United, Rodri goal, Haaland gets hugged
Posted : 28 August 2023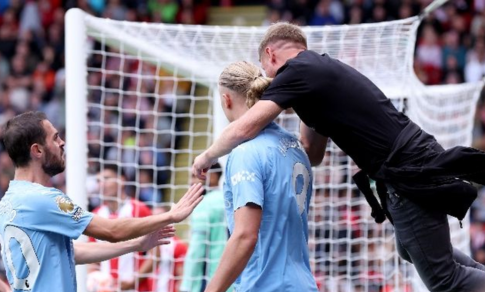 In a match where Manchester City secured a 1-2 victory over Sheffield United on Sunday, an interesting incident unfolded after an 88th-minute goal by Rodri secured the win for the champions. Despite conceding an equalizer in the 85th minute, Rodri's late goal earned Manchester City three crucial points. However, the standout moment came when Erling Haaland, who had contributed to Manchester City's 0-1 lead, experienced an unexpected interruption.
 
As Haaland celebrated his goal, an incident took place that garnered attention. A fan from the stands leaped onto the field and jumped onto Haaland's back to join in the celebration. This unexpected turn of events added a unique twist to the match's atmosphere.
 
Surprisingly, the fan involved in this celebratory act was not just an ordinary supporter caught up in the excitement. It turned out to be Terry Flanagan, a 34-year-old former world champion boxer who held the WBO championship belt twice between 2015 and 2017. Flanagan's career record boasts an impressive 2 wins and 38 fights, including 14 knockouts.
 
The revelation of Flanagan's identity as the fan who joined Haaland's celebration brought amusement to sports fans. The incident highlighted Haaland's physical prowess, as he managed to maintain his stability despite the unexpected interaction from behind. The Norwegian striker's ability to remain steady and composed showcased his on-field focus and balance.
 
Interestingly, Haaland appeared unfazed by the unauthorized interruption during his celebration. Even Manchester City's players seemed to find the incident amusing, adding a lighthearted element to the match.
 
The unexpected involvement of former boxing champion Terry Flanagan in the celebration created a humorous and memorable moment during Manchester City's victory over Sheffield United.