Jude Bellingham excels in Real Madrid's 1-3 victory over Almeria
Posted : 21 August 2023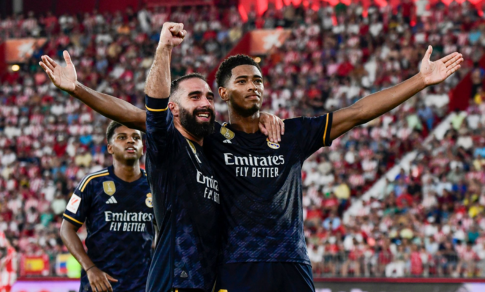 Jude Bellingham emerged as a shining star for Real Madrid in their 1-3 victory over Almeria, showcasing his prowess with two goals and an assist. The 20-year-old English midfielder, secured for €103 million from Dortmund, played a pivotal role in turning the match around from a 1-0 deficit to a 1-3 triumph, with Vinicius contributing to the scoreline.

With six points from two matches, Real Madrid maintains a perfect record, and Bellingham's involvement in four out of five goals (three goals and an assist) has been remarkable.
 
After the game, Bellingham commented on the team's resilience, stating, "A lot of teams struggle after falling behind. We're not like that, we continue to play well and we don't panic." He shared his experience of feeling the calm and security within the team, drawing a parallel to his childhood memories of watching Real Madrid on TV. Bellingham highlighted the absence of pressure or panic, emphasizing the team's strong mentality.
 
Reflecting on his personal performance, Bellingham expressed his satisfaction with scoring two goals but placed greater importance on his contribution to the team's success. He emphasized his role in the team's collective effort and the confidence he has in his teammates seeking him on the field. Bellingham's dedication to teamwork and his desire to keep improving were evident in his remarks. He also acknowledged the fans' significance, expressing his desire to bring them happiness.
 
The Ace newspaper held a highly positive view of Bellingham's impact, stating, "Ancelotti understood that he would have a problem in attack without Karim Benzema, but he has Bellingham Killer." They praised his swift adaptation and his role as a central figure in the team. The newspaper highlighted his two consecutive standout performances and three goals, signaling the emergence of the "Bellingham era" at Real Madrid.
 
Coach Carlo Ancelotti spoke highly of Bellingham's maturity and unique personality, crediting his time in Germany for his development. Ancelotti expressed confidence in Bellingham's ability to integrate into the team's system. When questioned about the goalkeeper position, Ancelotti praised Andrei Lunin's confidence and confirmed his continued presence in the starting lineup, while also hinting at Coffee's future involvement.

Regarding the game itself, the coach commended the team's composure in the face of an explosive attack, highlighting their ability to maintain their playing style and capitalize on opportunities. Real Madrid's upcoming match against Celta Vigo is scheduled for this Friday.