Israeli goalkeeper Daniel Peretz transfers to Bayern Munich, praised for agility, confidence
Posted : 26 August 2023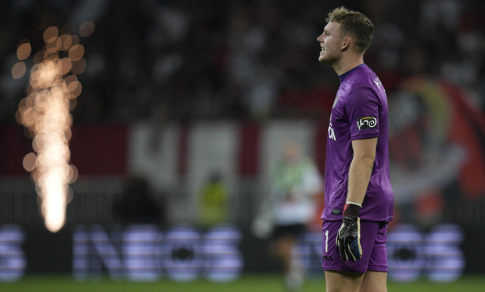 Following the completion of the Israeli goalkeeper Daniel Peretz's transfer to Bayern Munich, the German media has undertaken a thorough analysis of the significant addition. Characterizing him as young, tall, agile, confident with the ball, and adept at saving penalties, the German press has focused its attention on this impressive acquisition.
 
The move has drawn particular attention due to Coach Thomas Tuchel's desire for Peretz to join the team, exemplified by a persuasive phone conversation between the two. Tuchel expressed his excitement about the young talent's character and highlighted their observation of his standout performance during the Junior Euros, ultimately solidifying their decision to bring him to Bayern. Tuchel commented, "He has a strong personality and mentality."
 
Sport1 observed that Bayern Munich has found a solution for their goalkeeper position after a prolonged search. The acquisition of the Israeli goalkeeper from Maccabi Tel Aviv is expected to yield positive results for both sides. Initially serving as a backup to Sven Ulrich, Peretz is projected to ascend to the role of second goalkeeper upon Manuel Neuer's return. The club believes that Peretz is already on par with Ulrich's level.
 
The Athletic recognized Peretz as the third non-German goalkeeper in Bayern's history. Described as young, tall, agile, confident in possession, and skilled at saving penalties, Peretz showcased his prowess by stopping three penalty kicks during the UEFA European Under-21 Championship. His remarkable performances have earned him the chance to prove himself at Bayern, despite no explicit promises from the club.
 
The Bundesliga's official website featured a comprehensive profile of Peretz, lauding his remarkable performances at the Junior Euros where he left a lasting impact on players like Youssoufa Moukoko and Yasik Ngenkam. His exceptional showing against Germany and his contributions to the Euros have not gone unnoticed.
 
In addition to his footballing achievements, the German media has also highlighted Peretz's relationship with Noa Kirel, who gained international recognition for her third-place finish in the Eurovision Song Contest alongside Shira Unicorn. This connection to a globally known figure adds an element of glamour to Peretz's profile, further emphasizing the attention he has garnered through his move to Bayern.