Ildefons Lima bids farewell: Ending 26-Year international career with Andorra
Posted : 13 September 2023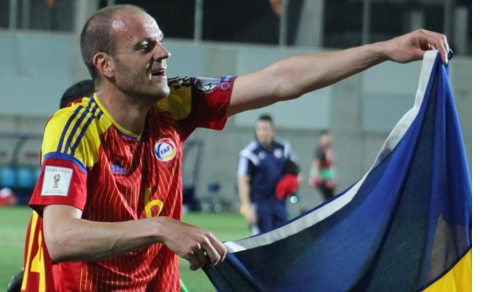 After a remarkable 26-year international career spanning 137 caps, Ildefons Lima has bid farewell to Andorra, concluding the longest international football career in history.

Lima, at the age of 43, made his debut for Andorra when he was just 17 in 1997, scoring in only the nation's second official match. He continued to represent Andorra in every decade since then, and his final international appearance was in a 3-0 loss to Switzerland.

In his last game, Lima started and played for 23 minutes before being substituted, receiving a standing ovation from both Swiss and Andorran fans as he left the field. He was replaced by Ricard Fernandez Betriu, a teammate who was born almost two years after Lima's international debut.

In 2021, Guinness World Records recognized Lima as having the longest international playing career. Before facing Switzerland, Lima referred to the match as "the last dance" in a post on social media.

Lima became the captain of Andorra over a decade ago, representing a nation with a population of just 79,000. Despite facing numerous challenges, including over 100 international losses, Lima's dedication to the Andorran national team was unwavering. Andorra has won only seven competitive fixtures, with their most recent victory being a 2-0 win over Liechtenstein in 2022 during the Nations League.

As a center-back, Lima achieved the remarkable feat of being capped in four different decades, joining the ranks of European footballers Billy Meredith from Wales and Jari Litmanen from Finland. Lima also holds the record for being the oldest player to appear in a UEFA European Championship qualifier.

Additionally, Lima is Andorra's all-time leading goalscorer, with 11 goals to his name. His most memorable moments include scoring an early penalty that gave Andorra a surprising lead against Wales in 2014, as well as opening the scoring in a 3-1 loss to the Republic of Ireland in a World Cup qualifier in Dublin in 2001.

In 2020, Lima was temporarily removed from the squad by the Andorran Football Federation after advocating for increased Covid-19 testing for players. He later returned to the team following pressure from manager Koldo Alvarez and FIFpro.

At the club level, Lima has represented clubs such as Espanyol, Las Palmas, and Rayo Vallecano in Spain, and he currently plays for FC Andorra B, a team owned by former Spain defender Gerard Pique.