Gusau/Ahlan Pre-Season Tournament: Plateau Utd eases past Wikki Tourists FC
Posted : 24 August 2023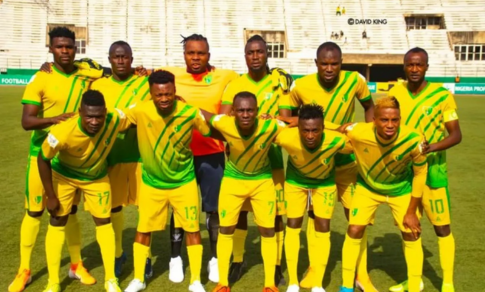 Plateau United FC of Jos has qualified for the semi finals of the ongoing Gusau/Ahlan Pre-Season Tournament in Bauchi with a 1-0 win over Wikki Tourists of Bauchi on Wednesday.

Plateau United FC joined other three teams, Katsina United, Doma United as well as El-Kanemi Warriors of Maiduguri that have book their places in the semifinals already .

Plateau United' s fierce rivalry with neighbours Wikki Tourist was rekindled yet again with a place in the last 4, up for grasp .

It was a tightly contested affair and a match that exhibited class and aggression from both sides with the boys in red guilty of fluffing a  number of opportunities to bury the game and hand their home fans a much contested victory across both halves .

There were pressure from the hosts, Wikki Tourist, but the team was not entirely to blame because they displayed a show of class and composure against Plateau United's highly organized defense line that ensured possessions were regained and in most cases initiated into attacking plays.

Plateau United goalkeeper, Adeyemi Adeyinka certainly had busy moments but benefited from finesse and fate at times to keep scores at check .

The Peace Boys' Uche Onwuasoanya would laze a magnificent shot on Wikki Tourist' s  goalkeeper,  George Micheal who let off but a rebounding Nenrot Silas effort failed to finish the deal .

Heading into deep of the second half, Plateau united's Mustapha Ibrahim drove past Wikki Tourist defender to drill a cross the way of Sunday Pam who heads the ball to the opposition goal but eventually helped by defender Wale Doyeni for the games only and winning goal and as a result grabbing his second goal of the tournament.  

There were moments of excitement generated by the remarkable efforts from both rivals but the result still leave scores at one nil in favour of the boys in yellow. 

For the semi final fixtures , Katsina United would battle Doma United in the first semi final game, while the second Semi final game features El-kanemi warriors versus Plateau United.

The semi final  pairing now pits Aliyu Zubairu against Mbwas Mangut of El-kanemi Warriors of Maiduguri and Plateau United FC respectively, having already played out a one all draw in one of the group games of the tournament.