Gambia stage remarkable comeback to secure Africa Cup of Nations finals spot
Posted : 11 September 2023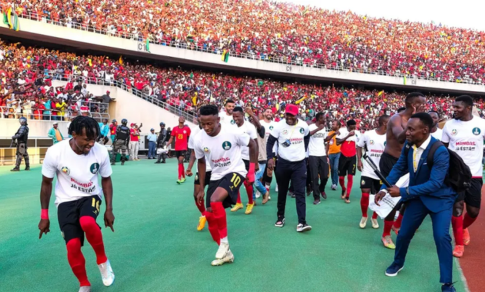 The Gambia made a remarkable comeback from a two-goal deficit to secure a 2-2 draw against Congo in earthquake-stricken Morocco on Sunday, sealing their spot in next year's Africa Cup of Nations finals.

Gambia only needed a draw to qualify, while Congo had to win the Group G match, which took place in Marrakech despite a powerful earthquake near the city that tragically claimed the lives of around 2,100 people.

The game was moved to Morocco because Gambia is prohibited from hosting international matches by the Confederation of African Football (CAF) until they upgrade their stadiums. The match was in doubt after a 6.8 magnitude earthquake struck on Friday, forcing both teams to evacuate their hotel rooms and spend the night next to their respective hotel pools.

Coaches reported that the players were traumatized by the earthquake's effects, but CAF instructed them to proceed with the game, even though Morocco's scheduled qualifier on Saturday was postponed.

Congo took an early lead when Gaius Makouta scored from close range in the 30th minute, followed by a fortunate penalty converted by Silvere Ganvoula after Gambia's captain, Omar Colley, was deemed to have handled the ball. Television replays showed that the ball had struck his shoulder blade, but VAR was not in use for the match.

Gambia staged a surprising comeback, with teenager Yankuba Minteh scoring in the 79th minute, and Muhamed Badamossi netting in injury time to secure Gambia's second-place finish in the group. This denied a disappointed Congo a place in the finals.

This marks the second consecutive qualification for one of Africa's smallest countries. In the previous Cup of Nations finals in Cameroon, Gambia caused several upsets before being eliminated in the quarter-finals.

With their qualification secured, there are now only two more spots to be determined for the 24-team tournament in Ivory Coast from January 13 to February 11. Cameroon will face Burundi in Group C on Tuesday, and the outcome will determine which two of Burundi, Cameroon, and Namibia qualify for the finals.

Besides the hosts, Ivory Coast, the already qualified teams include Algeria, Angola, Burkina Faso, Cape Verde Islands, Democratic Republic of Congo, Egypt, Equatorial Guinea, Ghana, Guinea, Guinea-Bissau, Mali, Mauritania, Morocco, Mozambique, Nigeria, Senegal, South Africa, Tanzania, Tunisia, and Zambia.

In an earlier match on Sunday, Victor Osimhen scored a hat-trick as Nigeria completed their qualifying campaign with a resounding 6-0 home win over Sao Tome e Principe in Uyo. Nigeria had previously defeated the small island nation 10-0 away earlier in the campaign.

Togo also staged a comeback, overcoming a two-goal deficit to beat the Cape Verde Islands 3-2 in Lome, with a double from Kevin Denkey.