Excitement galore as BSFA, State government launch 'Football for All' initiative in Benue
Posted : 15 September 2023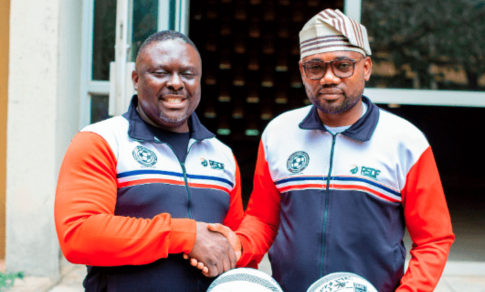 A new soccer revolution known as 'Football for All' has been officially launched in Benue State.

The initiative designed by the Benue State Football Association (BSFA) is aimed at ensuring that massive footballs are made available and distributed across the state at a low cost.

Launching the initiative in Makurdi, the state capital, Commissioner for Youth, Sports and Creativity, Rt. Hon. Ikyange Terkimbi, commended BSFA leadership, led by the Chairman, Barr. Paul Edeh, for its unpredictable passion and commitment in driving football development at the grassroots.

He said while other sporting groups and associations only send in requests of the things they want government to do for them, Benue FA has led the way in pursuing a vigorous footballing system geared towards taking the youth off the street and engaging them meaningfully.

Citing the ongoing FA Cup tournament at all 23 Local Government Areas (LGAs) across the state, the Commissioner who was a Speaker, Benue State House of Assembly reckoned that with the tempo at which football is currently being administered, other sports will take a cue to revive the sector which had gone moribund.

"Really, it's quite commendable of what the BSFA has done in setting the pace in football development, particularly in the state. The initiative, backed with commiserate action, to crash the price of balls, is highly laudable. The state government will always support your activities because we are partners in progress," he said.

Earlier, the BSFA Chairman, Barr Edeh while explaining the rationale behind 'Football for All' initiative emphasised that the need to ensure that various football teams in the state and young individuals have access to balls informed the idea.

Recalling how a local FA board member was recently attacked and kidnapped on his way to buy balls, Barr. Edeh said the availability of balls will mitigate against such occurrence in the future.

He also revealed that already, some balls have been procurred for distribution at a very low cost with more expected to be brought in later on, courtesy of a partnership with Haggai sports.

He said, "We intend to flood Benue state with balls. We are starting with 10, 000 of them which will be sold at N6000 each, being the maximum amount. We are even working on further getting the balls at a reduced price in the future.

"The idea which is part of our resolve to improve the round-leather game, is also to ensure that young ones who have interest in playing football have easy access to balls without hindrance. Same goes for the coaches and any other person who is willing to move the game of football forward."

Some football stakeholders including FA board members, coaches and referees, among others were present at the launch.

Top officials of the ministry were also at the event, which witnessed the signing and presentation of balls to and by the Commissioner.