Eintracht Frankfurt striker Muani refuses training, seeks transfer before window ends
Posted : 30 August 2023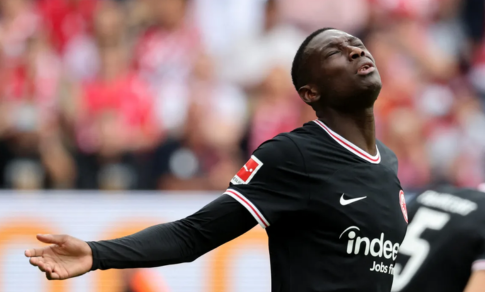 Eintracht Frankfurt's forward, Randal Kolo Muani, has informed the club that he will not participate in training as he endeavors to secure a transfer to Paris St-Germain.
 
The 24-year-old, who is being pursued by PSG, has expressed his desire to join the French champions, viewing it as a "unique opportunity."
 
As a consequence, the French international will be absent from the upcoming Europa Conference League qualifier against Levski Sofia scheduled for Thursday.
 
Markus Kroesche, the sporting director of Frankfurt, emphasized that Muani's actions will not impact the ongoing transfer negotiations.
 
Kolo Muani is under contract with the German club until 2027 and has been appraised at a value of 100 million euros.
 
Eintracht released a statement confirming the situation: "Kolo Muani informed the Eintracht Frankfurt sporting management that he will not take part in today's final training session. He stated his intention to move clubs before the end of the transfer window on Friday night as the reason for his absence."
 
Kroesche further clarified: "This is not the Randal we are familiar with, and we understand his true character. He is currently facing significant pressure, leading to this reaction, which is not appropriate, as we have conveyed to him and his representatives along with all the associated consequences."
 
During an interview with Sky Germany on Tuesday, Kolo Muani, who has netted 26 goals in 50 games since his arrival from Nantes last season, disclosed, "It's no secret, PSG have made a record offer for me. A move to Paris is now a golden opportunity for me. I've conveyed this desire to my [club] management. I hope Frankfurt will accept Paris's offer and facilitate this transfer."
 
Kolo Muani has represented France in nine matches and notably played in their World Cup final loss to Argentina, contributing a goal in the penalty shootout which concluded 4-2 in Argentina's favor.