Caicedo's nightmarish debut became a joke; Pochettino seeks reinforcement
Posted : 21 August 2023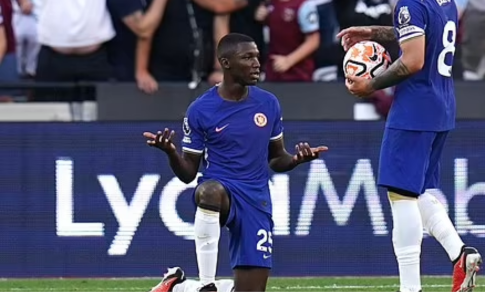 Making his debut as a substitute, the English football's record-breaking transfer Moises Caicedo created a stir for Chelsea with his penalty-causing performance in their defeat against West Ham. The net was left trembling as Caicedo entered the match, marking his first appearance for Chelsea with an eventful contribution.

Chelsea had acquired Caicedo for an astounding £115 million from Brighton, surpassing his prior potential move to Liverpool for £111 million. This transfer fee crowned him as the most expensive player in the history of English football. However, his Chelsea debut took an unexpected turn as he made his mark in a rather unintended manner.
 
In a match where Chelsea found themselves trailing 2-1 against West Ham, Caicedo's involvement created a series of moments that caught attention. He struggled to find his footing, facing relentless shots, and during extra time, his actions led to a penalty, successfully converted by Lucas Paqueta, sealing West Ham's 3-1 victory.
 
Caicedo's debut also earned him a spot in a notable Premier League record, becoming the second Chelsea player ever to score a penalty in their debut match. The first player to achieve this feat was Wayne Bridge back in August 2003. Ansu Fernandes, another high-priced Chelsea acquisition, was not as fortunate, missing a penalty opportunity in the first half when the match was tied 1-1.
 
Despite the significant investment made in acquiring Caicedo, Chelsea's manager, Pochettino, acknowledged after the game that the club was actively seeking additional attacking players. Pochettino emphasized the challenges in finding players with the right attributes and profiles but assured that the club was dedicated to enhancing their squad's capabilities in these areas. Pochettino's perspective highlighted the ongoing efforts to strengthen Chelsea's roster, demonstrating a commitment to improvement.
 
Regarding Caicedo's impact on the match, Pochettino expressed concerns about his performance affecting the team's dynamics. While Chelsea displayed promising gameplay in the first half, the second half proved to be challenging, with the team struggling to find their rhythm and adapt their strategies. Despite the mixed debut, Chelsea's pursuit of excellence remains unwavering as they navigate the competitive landscape of English football.