Bruno Fernandes: Manchester United's new captain aims to steer the ship amidst turbulent start
Posted : 19 September 2023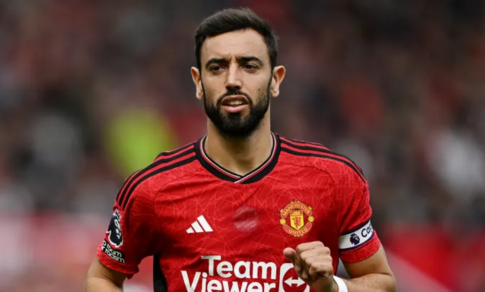 Manchester United's turbulent start to the season has seen them struggle, and Bruno Fernandes, their new captain, faces the challenge of steering the ship back on course. The Portuguese midfielder has even found himself playing as a defender in the midst of the team's woes.
 
Ansu Fati, on his debut for Brighton, seemed destined to score, but Fernandes intervened with a last-ditch effort, preventing the on-loan Barcelona talent from scoring. Although United suffered a 3-1 loss at Old Trafford, Fernandes' commitment stood out, even when asked to play in an unfamiliar position.
 
While Manchester United grapples with a rocky start to the season, Fernandes remains a standout figure amid the chaos and frustrations. As the new captain, he embodies dedication and leads by example on the pitch. His commitment is unquestionable, though it can sometimes manifest as frustration when things don't go his way.
 
Erik ten Hag, United's manager, recognized Fernandes' leadership qualities when he handed him the captain's armband, replacing Harry Maguire. Fernandes was honored by the appointment and has since worked diligently to prove himself worthy.
 
Fernandes' work ethic is exemplary, often covering more ground than any other United player. His average distance covered per game leads the Premier League at 11.5 miles. Despite these efforts, Ten Hag made the puzzling decision to deploy him as a central defender during a crucial moment in a match when United needed goals.
 
Amidst United's struggles, which include a rift with Jadon Sancho, accusations of violence against Anthony, and a lengthy injury list, Fernandes has been a consistent performer. His ability to influence games and make crucial plays is well-documented, even if it sometimes feels like a distant memory amid the team's recent struggles.
 
Fernandes has maintained his form, performing impressively for the national team as well. He now faces the challenge of leading Manchester United in the Champions League, hoping to make amends for their recent league disappointments.
 
While facing Bayern Munich at the Allianz Arena is a formidable task, Fernandes thrives in such high-pressure situations. His past performances in the Champions League highlight his ability to create opportunities and contribute to his team's success.

United fans are hopeful that he can lead them to a memorable result in Munich, all while wearing the captain's armband and hoping he won't need to step into a central defender's role.