Bendel Insurance FC land in Casablanca for second leg CAF Confederation Cup
Posted : 27 September 2023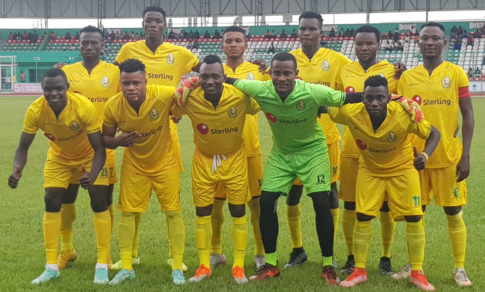 Bendel Insurance Football Club of Benin, on Tuesday afternoon arrived in Casablanca, the capital city of Morocco ahead of their second leg battle with Renaissance de Sportive Berkane in the second preliminary round of the 2023/24 CAF Confederation Cup.

The crucial CAF engagement is scheduled to hold on Friday, Sept. 29 in Berkane.

Bendel Insurance FC team flew into the Arab city aboard Royal Air Maroc, which touched down at the Mohammed V. International Airport, Casablanca at about 1:18 pm.

The team departed the M.Mohammed International Airport, Lagos, Nigeria at about 8:18 AM, and arrived safely into the warm embrace of Emmanuel Ovye Oliver, the protocol assistant and some other officials of the Nigeria Embassy in Morocco who were on ground at the Airport to receive the Nigeria's representatives.

Recall that Bendel Insurance FC were forced to a 2-2 draw by RS Berkane at the Samuel Ogbemudia stadium, Benin on Saturday, Sept. 16.

The coach Monday Odigie-led Benin Arsenals look confident ahead of the return leg clash as they have vowed to defend their pride and dignity in Morocco. 

The stand-in captain of Insurance FC Amas said: "Knowing the honour that awaits us if we beat our opponents to qualify for the group stage, we are going to fight for everything in the field of play to go home happy. 

``We made two mistakes in Benin and will not want a repeat. We are facing very strong opponents who have been champions twice in a space of three years but we will not allow their intimidation to affect our play. 

``They should expect a good fight from us the way they also fought in Benin.

"Above all, we want to fight to win for our state Governor who has been wonderful in giving his all, in sponsorship and motivation that has taken us thus far both in the domestic league and continental level," Amas enthused.