Andre Onana confirms his return to international football with Cameroon
Posted : 05 September 2023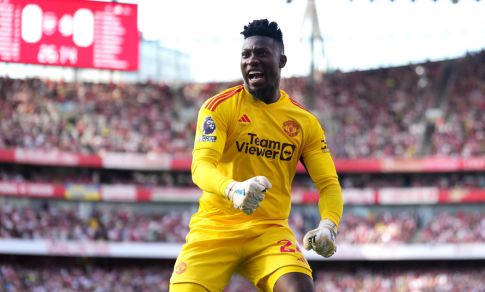 Andre Onana has officially confirmed his comeback to international football with Cameroon, even after facing what he perceives as "injustice and manipulation."
 
The Manchester United goalkeeper has been named in the Indomitable Lions squad for the upcoming final Africa Cup of Nations (AFCON) qualifier against Burundi in Garoua.
 
This surprising inclusion comes after Onana's suspension by Cameroon's football federation nine months ago during the 2022 World Cup for alleged "disciplinary reasons," which were widely believed to be linked to a disagreement with Cameroon coach Rigobert Song.
 
Following this incident, the 27-year-old had announced his international retirement.
 
In a recent social media post, Onana expressed his "unwavering love and attachment" to his homeland but hinted at his dissatisfaction with how events have unfolded since the World Cup in Qatar.
 
"In the world of football, just as in life, there are defining moments that necessitate significant decisions," he stated.
 
"In recent months, I have encountered challenges marked by what I consider to be injustice and manipulation.
 
"I respond to the call of my nation with unwavering determination, recognizing that my return is not just about fulfilling my dream but also meeting the expectations and receiving the support of the Cameroonian people, who deserve a national team committed to achieving success."
 
Onana and his teammates must secure at least a draw against Burundi to qualify for the Nations Cup in Ivory Coast, scheduled for January. If Cameroon qualifies and selects Onana for their Afcon squad, it could mean his absence from several matches for Manchester United, who have begun the new Premier League season with two wins and two losses in their first four games.

The Afcon finals are scheduled to take place from January 13 to February 11, 2024.