Almeria 1-3 Real Madrid: Jude Bellingham maintains La Liga perfect start with twice goals
Posted : 20 August 2023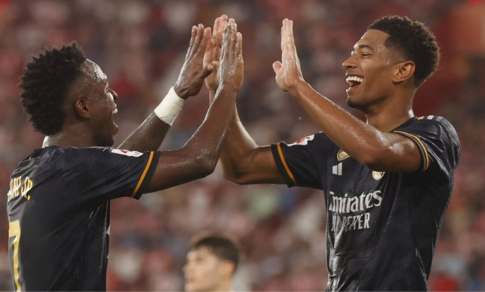 In 2007, Wesley Sneijder became the last Real Madrid player to score a minimum of three La Liga goals in their initial two appearances for the club.
 
England midfielder Jude Bellingham demonstrated his prowess by scoring twice, leading Real Madrid to a comeback victory against Almeria, thereby maintaining their perfect start in La Liga.
 
Bellingham, who recently transitioned from Borussia Dortmund to Real, has already netted three goals in the opening two Spanish top-flight matches, showcasing his impact since joining the club.
 
Following Bellingham's equalizer and subsequent go-ahead goal, Vinicius Jr contributed Real's third goal of the evening.
 
Almeria initially took the lead with Sergio Arribas' early header, but Real Madrid's determination saw them turn the game around.
 
The investment in Bellingham, amounting to £88.5 million with potential add-ons bringing the total to £115 million, seems to be paying off. The young talent, now donning the iconic number five shirt previously worn by Zinedine Zidane, is proving his adaptability to La Liga and Real's style under coach Carlo Ancelotti.
 
Bellingham's performance continued to impress as he replicated his debut league goal from the prior match against Athletic Bilbao. His impact on the field was instrumental in driving Real Madrid forward and securing a comfortable victory.
 
Wearing the number five jersey, Bellingham found the net by capitalizing on a fortunate rebound off Almeria's defender Chumi, confidently slotting the ball into the right corner.
 
An hour into the game, Bellingham further cemented his influence by heading in a perfectly placed cross from Toni Kroos, increasing both his personal tally and Real's score.
 
Bellingham's adept passing and movement also set up Vinicius to elegantly complete the scoring, sealing Real Madrid's triumph in the match.