AFCON Qualifiers: Nigeria vs Sao Tome and Principe, Akwa Ibom increases free match tickets, accommodate 30,000 fans
Posted : 09 September 2023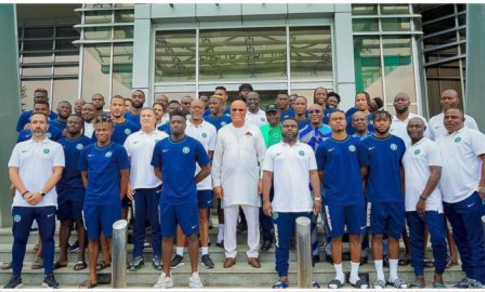 Following high demand for match tickets since the announcement of sales, His Excellency, Pastor Umo Eno, the Governor of Akwa Ibom State, has now graciously purchased 25,000 more tickets for the AFCON 2023 qualification match between Nigeria and So Tomé and Principe, scheduled to kick off at 5:00 p.m. on Sunday, Sept. 10, at Godswill Akpabio International Stadium, Uyo.
 
This is in addition to the 5,000 free tickets earlier purchased by His Excellency. All 30,000 tickets for the match are therefore to be issued free to all spectators to access the stadium for the match. No one should buy tickets for the match. If you are unable to get a ticket before the match day, you are advised to come to the stadium before 4:00 p.m. and be issued a free ticket at the gate.
 
This gesture by His Excellency is to encourage citizens and residents of the state to come out en masse and cheer the Super Eagles on to victory. The fans are grateful to His Excellency, the Governor, for his magnanimity.