About Spurs' potential replacement for Kane: A 21-year-old Nigerian striker
Posted : 17 August 2023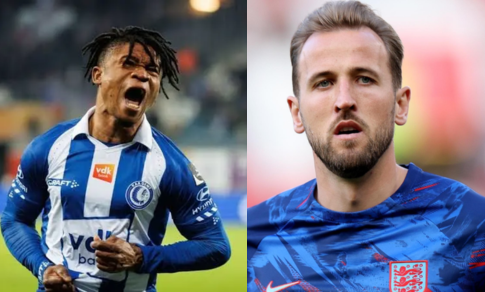 Tottenham's recent match against Brentford showcased their struggle to convert dominance into victory, emphasizing the absence of a clinical striker like Harry Kane. 

This shortfall has prompted Spurs to explore alternatives, with emerging Nigerian talent Gift Orban emerging as a potential solution. 

Orban's remarkable progress in Belgium's Jupiler Pro League has caught Tottenham's attention, as he embodies the type of forward that aligns with Coach Postecoglou's system.

Despite their efforts in the Brentford match, where they registered 18 shots but only managed a draw, Tottenham lacked the cutting edge that Kane typically provided. 

This has ignited a search for a fitting striker, with Romelu Lukaku and Dusan Vlahovic among the names in consideration.

 Among them, Gift Orban has emerged as a prospect that aligns well with Postecoglou's offensive strategy and could bring the spark Tottenham needs.

Orban's journey from the Norwegian second tier to becoming a goal-scoring sensation in Belgium's top division showcases his remarkable development. 

Scoring 16 goals and providing two assists in just 1395 minutes of game time last season highlights his efficiency in front of goal. 

With a strong propensity for maximizing his goal-scoring potential within the box, he echoes the style Postecoglou prefers—a forward who thrives in the opposition's penalty area. 

Tottenham's interest in Orban reflects their commitment to securing players who align with their tactical vision, potentially setting the stage for his promising ascent in the Premier League.