Abia Warriors emerges 2023 Tico/Select Pre-season Tournament Champions
Posted : 05 September 2023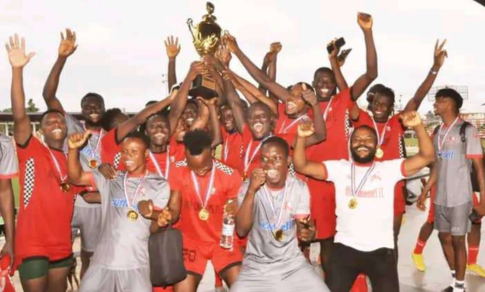 Abia Warriors have clinched the championship title in the 2023 Tico/Select Pre-season Tournament with an 8-7 victory in a thrilling final clash against the resilient FC One Rockets of Uyo.
 
This terse final match of the Tico/Select Pre-season Tournament was a thoroughly entertaining contest. It featured two Nigerian youth internationals from the 2023 FIFA Under-20 World Cup, with Daniel Daga representing FC One Rockets and Augustine Njoku donning the Abia Warriors jersey. Both players showcased their prowess and justified their roles as vital assets for the national team.
 
Daga, orchestrating the midfield, proved to be a maestro for FC One Rockets, while Njoku, operating as a right-back, expertly marshaled the defense for Abia Warriors.
 
Despite the home side's spirited offensive efforts, the Warriors remained steadfast. However, it was Sunday Megwo who broke the deadlock, putting Abia Warriors ahead after 18 minutes of play.
 
Ten minutes later, Daga unleashed a long-range shot from 35 yards that kissed the crossbar, much to the relief of Abia Warriors' goalkeeper, Sharp Uzoigwe. This marked the beginning of several attempts by the Nigerian U20 International.
 
In the 41st minute, Daga tried his luck again from 30 yards, narrowly missing the target this time.
 
The 48th minute saw Warriors' captain and center-back, Goodluck Ozioma, forced off the field due to a knee injury. He was replaced by Jimoh, who had recently recovered from an injury himself.
 
A double substitution in the 70th minute introduced Nonso and Sampson into the fray. Just four minutes after entering the game, Sampson doubled the Warriors' lead, capitalizing on a goal-mouth scramble.
 
In the 89th minute, Paul Aver managed to reduce the deficit for the home side with a goal. FC One Rockets maintained pressure, and three minutes later, they equalized, courtesy of Daniel Daga.
 
With the final whistle, the match was decided by a penalty shootout to determine the victor. After 11 rounds of penalty kicks, FC One Rockets scored seven, while Abia Warriors scored eight, securing their victory in the 2023 Tico/Select Pre-season Tournament.