Aaron Ramsdale under scrutiny by Bayern Munich and Chelsea, Manchester United faces internal issues
Posted : 19 September 2023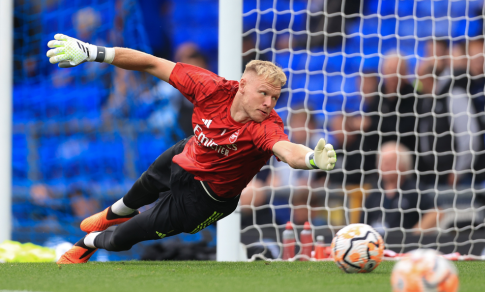 Bayern Munich and Chelsea Eye Aaron Ramsdale Amid Goalkeeper Shakeup at Arsenal
In the latest players and clubs update, there's a focus on Aaron Ramsdale, the Arsenal goalkeeper who was dropped by Mikel Arteta and is now being monitored by Bayern Munich and Chelsea. Ramsdale was replaced by David Raya in Arsenal's recent game against Everton, raising questions about Arteta's plans for the goalkeeping position. Chelsea and Bayern Munich are reportedly interested in Ramsdale, as both clubs are open to strengthening their goalkeeping options.
 
Manchester United Players Involved in 'Bust-Up' After Brighton Defeat
Manchester United is dealing with internal issues, including a reported "bust-up" involving four players after their defeat to Brighton. Captain Bruno Fernandes confronted midfielder Scott McTominay, while defenders Lisandro Martinez and Victor Lindelof also had a heated exchange following defensive mistakes. The team's recent poor form has added to the tensions within the squad.
 
Growing Concerns Over Agent's Influence at Manchester United
Additionally, concerns have arisen regarding the growing influence of Erik ten Hag's agent, Kees Vos, at Manchester United. Vos' agency, Sport Entertainment Group (SEG), has played a significant role in United's recent transfer dealings. This has led to dissatisfaction among other agents, as SEG has become the go-to agency for transfers at the club.
 
Arsenal Target English Teenage Star Jamie Bynoe-Gittens
On the transfer front, Arsenal is reportedly considering a move for English teenage talent Jamie Bynoe-Gittens. The 18-year-old, who left Manchester City for Borussia Dortmund in 2020, has been likened to Jude Bellingham and has made significant progress with Dortmund, earning his first cap for England's U21s.
 
These developments highlight the ongoing changes and challenges faced by Premier League clubs as they navigate the transfer market and internal dynamics.