16-year-old Lamin Yamal joins Spanish national team; Barcelona negotiates extension with Jorge Mendes
Posted : 30 August 2023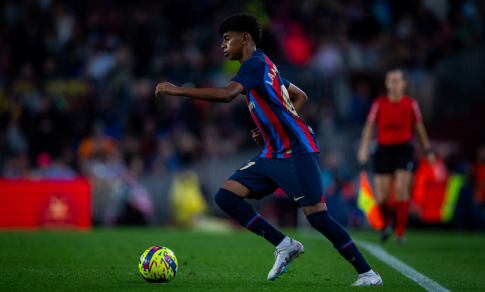 Lamin Yamal, a remarkable 16-year-old talent, has taken center stage on the football field, revealing his intention to represent the Spanish national team and earning widespread acclaim. The enthusiasm surrounding his prowess has prompted Barcelona to take proactive measures to secure his stay at the club for an extended period. As a testament to their commitment, the club is currently in the process of negotiating a contract extension with super-agent Jorge Mendes, aiming to prolong Yamal's association with the team until 2026.
 
Amid his impressive performances, Yamal's contract is set to expire next summer. However, Barcelona is keen to secure his talents for a longer duration and is reportedly considering an enticing salary package, coupled with a staggering release clause of, astonishingly, €<> billion. Such a strategy underscores their firm determination to retain this emerging talent within their ranks.
 
Recent reports reveal that Yamal has made the choice to represent the Spanish national team, a decision that comes at Morocco's expense. Anticipation is building for his debut, which is anticipated to take place in early next month against either Georgia or Cyprus.
 
Notably, in a recent match, Yamal played a pivotal role in Barcelona's 3-4 victory in the Spanish league. His contributions were remarkable, including his involvement in Gavi's opening goal and his clever maneuvering to outfox Villarreal's defense. Furthermore, he provided two assists to Cora, with Robert Lewandowski capitalizing on one of those opportunities to score the visitors' fourth goal.
 
Xavi, the Barcelona coach, spoke highly of the young prodigy, emphasizing, "The expectations from him are already very high. He's a player who makes a difference in games. He is always ready and his decision-making is almost always accurate and correct. That's the most important thing for a footballer. If he starts in the lineup, it's not because I want to give him minutes, but because he deserves it and proves it on the court. He's only 16 years old, which is very unusual."
 
Despite the overwhelming praise at such an early stage of his career, Yamal appears to handle it gracefully. Xavi noted, "I don't think he has a problem dealing with everything he's going through. He's a very special, humble, hard-working guy. I don't see any problem. He has competition for a place in the squad, but from what I can see, he is ready to be a Barcelona player."