VALORANT Champions 2023 Draws Global Attention with 1.29M Peak Viewers
Posted : 29 August 2023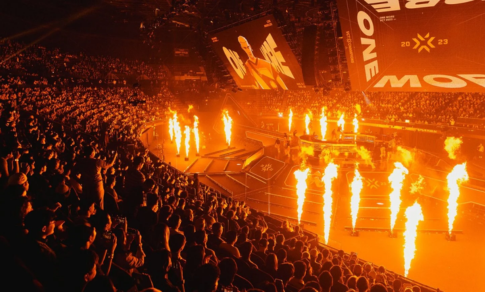 The culminating international event of the VALORANT gaming season, VALORANT Champions 2023, captured the interest of gamers worldwide, reaching a peak viewership of 1.29 million. While this figure marked a slight decrease compared to its 2022 counterpart, the event remained a spectacle of competitive gaming.
 
Esports data and viewership platform, Esports Charts, reported that VALORANT Champions 2023 also achieved an average viewership of approximately 491,000. It's noteworthy that this was accomplished in six fewer hours of airtime than the previous year.
 
When examining the numbers, VALORANT Champions 2023 exhibited a minor dip compared to the statistics of the 2022 event. The 2022 edition boasted a peak viewership of 1.5 million and an average viewership of around 525,000, spread across 115 hours of engaging gameplay.
 
The standout moment of the tournament unfolded during the grand final between Paper Rex and Evil Geniuses, where the North American esports organization secured victory. Curiously, the upper bracket final between the same two teams took second place in terms of peak viewership.
 
It's worth considering that the absence of LOUD in the final, a team known for its expansive fan base, might have influenced viewership numbers. LOUD emerged as the most-watched team during the event, accumulating an impressive 18.7 million hours watched. Additionally, LOUD came within a couple of thousand viewers of being the second most-watched team in terms of average viewers, with Paper Rex (707,300) and Evil Geniuses (657,000) taking the first and second positions.
 
The VALORANT Champions event holds significance as the ultimate culmination of the VALORANT competitive season, functioning as the prestigious World Championship. Teams from the game's competitive regions converge to showcase their skills. This year, the event saw the North American organization Evil Geniuses triumphantly secure the championship title by prevailing over Singapore-based Paper Rex. Fan favorites LOUD and Fnatic claimed the third and fourth positions, respectively.
 
Following the VALORANT Champions event, the VALORANT teams will enter a recuperation phase before transitioning to the off-season. During this period, numerous tournaments hosted by third-party organizers will unfold worldwide. This vibrant competitive scene will pave the way for the new season scheduled to commence in January 2024. In an exciting development, Riot Games announced notable changes for 2024, including the introduction of a wholly new region, China, which will have its own franchised league.