Foremost Betting Company, Lucky Bet unveils ace music star, Portable as Brand Ambassador
Posted : 27 September 2023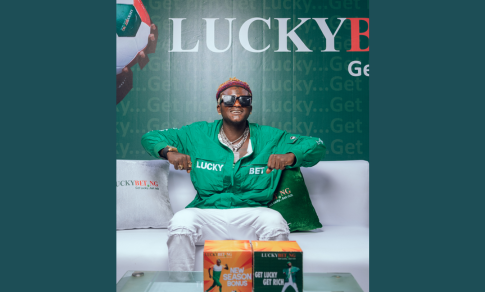 Nigeria's foremost Sports Betting platform, www.luckybet.ng on Tuesday unveiled one of Nigeria's prime musician, Habeeb Olawunmi popularly known as Portable as its Brand Ambassador.

The unveiling of Portable was done at the www.luckybet.ng Lagos office at Ojota.

The Head of Marketing, www.luckybet.ng,  Nneka Nnaji in her opening address remarked that the occasion was to enhance the partnerships that exists between entertainment and sports betting.

``We came not to introduce the face of our ambassador, but to enhance a partnership that signifies a convergent of sportsmanship, entertainment and responsible gaming.

``At www.luckybet.ng, our mission is to provide excellent sports betting and gaming experience to delight our customers and to contribute to the advancement of the community which we do business.

``We have always been committed to pushing boundaries through youth empowerment and creating opportunities for our customers to get lucky and get rich, while upholding the principle of integrity and fair play.

``Our vision is to be a leader in Nigeria's sports betting and gaming industry by developing innovative products through highly natured people while developing consistent returns to our stakeholders.

``The unveiling of our brand ambassador, Portable is a monumental occasion that signifies a partnership that goes beyond endorsement and marketing strategy, but a sheer vision that elevates sports betting experience through the power of music and entertainment.

``Our brand ambassador embodies the true story of luck and passion. The individual that we are proud to introduce not only brings his fame and influence, but also a shared commitment that sports betting remains a thrilling and enjoyable responsible pastime.

``It is a symbol of our promise to empower the youths and make them live their dreams. As we move forward with this partnership, we envisioned a future where the tree of sports betting is combined with responsible gaming practice.

``We will embark on initiatives, campaigns and efforts that elevate sports betting experience, ensuring it remains a source of excitement while safeguarding the interest of our customers.

``Our gratitude goes to our customers, agents representatives, stakeholders and our employees who are the backbone of our success,'' she concluded.

Mr Foye Johnson, the Head of Commercial also remarked that www.luckybet.ng was in the forefront of promotion of responsible betting through the company's internal mechanism.

``We have put strong mechanism in place to ensure responsible betting, we don't encourage underage betting, our pointers are 18 years and above.

``We also frown at betting addiction and we have internal mechanism to checkmate such and when we notice such, we can go to the extent of suspending such account,'' he said.

Explaining further, Nneka Nnaji said that the ace artist and top performer, Portable, the ''Zazzu Crooner'' was chosen after a diligent study of the right personality for the brand of the company.

``We carefully chose Portable because of his wide appeal from the youths in the country. We want someone who can beat the grassroots mobilisation that we wanted.

``We are sure of the singer's popular acceptability and his grassroots drive among the citizens, coupled with his appealing songs.

``We cannot separate the influence of entertainment to the world of sports and betting, so we have to go for the best within our reach.

She further emphasized that the Zazzu Crooner would be awarded with a promo code for his large followers.

"With the www.luckybet.ng platform and unending bonuses, we will create a better betting experience, everyday a winner stands the chance of getting lucky and rich."

She further stated that "No matter the outcome of the game you will always GET LUCKY.

"Let your passion for the game and the hope you share drive your luck when you sign up, deposit, play and win."

Portable in his response, urged his fans to get lucky and get rich, adding that the only way to get lucky is to play on the luckybet platform.

The event was well attended by dignitaries from the political and economic sectors.