Team Nigeria boxers departs for Senegal for Paris 2024 qualifiers
Posted : 06 September 2023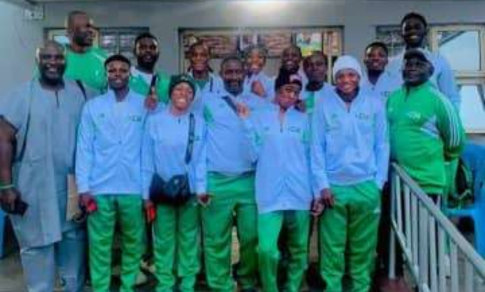 Ahead of the Paris 2024 Olympic Boxing qualifier, the Nigeria Boxing Federation said on Wednesday that nine boxers and two officials have departed the shores of Nigeria for Dakar, Senegal, the venue of the event.
 
Over 20 boxers have been camping in the last few days, getting ready for the qualifier that will commence this weekend. After thorough training, nine boxers, consisting of three males and six females, were picked to carry the Nigerian flag in Senegal.
 
The Africa Olympic Boxing Qualifiers are scheduled for September 9th–15th, 2023.
 
Male boxers: 
1. Omole Dolapo (57KG) featherweight.
2. Fatai Moshood (71KG) welterweight.
3. Olaore Adams__UK-based (92KG) Heavyweight.
Female Boxers
4. Oyesiji Adeola__ (50KG) light-flyweight.
5. Adesina Zainab__(54KG) Bantamweight.
 6. Ojo Joy__(57KG) Featherweight.
7. Cynthia Ogunsemilore__(60KG) lightweight.
8. Damilola Shodipe__(66KG) Welterweight.
9. Patricia Mbata__UK-Based (75KG) middleweight.
Head Coach: Anthony Konyegwachie and Coach Adura Olalehin.