Paris 2024 Africa Boxing qualifiers: Nigeria banks on England-based Mbata for ticket
Posted : 08 September 2023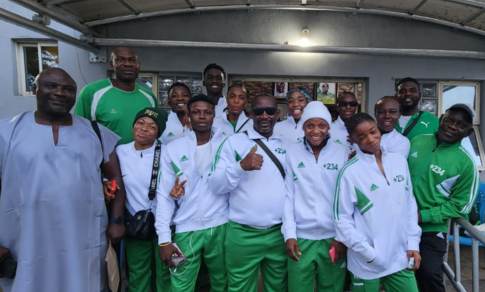 Dapo Akinyele, the Secretary General of the Nigeria Boxing Federation (NBF), emphasized the importance of England-based sensation boxer Patricia Mbata in Team Nigeria's pursuit of Olympic tickets. In an exclusive interview, Akinyele acknowledged the challenging nature of the qualifiers set to take place in Dakar, Senegal.

Akinyele, while speaking with Africa Sport Network (ASN) in Dakar, confirmed that Team Nigeria's boxers had arrived in Dakar, Senegal. The team, consisting of 9 boxers and two coaches, departed from Nigeria via Muritala Mohammed International Airport, heading to the Olympics Boxing event qualifications.

These 9 boxers were chosen from a pool of over 20 who had undergone a two-week training camp in preparation for the Paris 2024 African Boxing qualifiers, scheduled from September 9th to 15th. The team includes 3 males and 6 females.

Adeleye, a representative of Team Nigeria, expressed their readiness to secure Olympic slots despite the presence of numerous boxers from different African countries. He acknowledged the keen competition and the uncertainty of specific categories in such intense contests.

Adeleye stated, "The boxing qualifiers here will be keenly contested and will be tough. There are many countries here all over Africa competing. I have no doubt that in spite of the large contingent of boxers, we are ready."

He reiterated their determination to earn Olympic tickets, emphasizing their comprehensive preparation and the desire to bring happiness to their country.

Adeleye also highlighted Team Nigeria's reliance on Patricia Mbata, a fast-rising Nigerian boxer based in the UK, to secure an Olympics boxing ticket. Mbata, who trains at the Finchley Amateur Boxing Club in England, draws inspiration from British superstar Anthony Joshua and is eager to make her mark in the sport.

"Mbata is aiming to secure her ticket to Paris 2024 in Senegal," Adeleye added.

Mbata discovered her passion for boxing in her 20s and found herself in a sport she truly enjoys, surrounded by individuals she greatly admires. She sees herself as a catalyst for change in the sport, bringing a unique perspective to the boxing world.

As she intensifies her training for only her second tournament as a Nigerian boxer, Mbata draws parallels between her journey and that of Olympic gold medallist Anthony Joshua, who also began his boxing career at the same club, inspiring her with the potential path her journey could take.