NBF begin close camping ahead of Africa Paris 2024 Olympics qualifers
Posted : 19 August 2023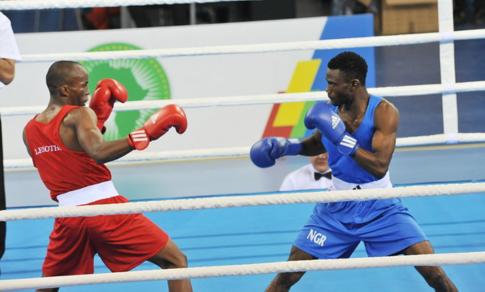 The Nigeria Boxing Federation (NBF) has opened camp for its athletes ahead of the Africa Olympics Qualifying Bouts in Dakar, Senegal from Sept. 6 to 16.

Africa Sport Network (ASN) reports that the 14 boxers from seven weight categories are camped inside the National Stadium, Surulere, Lagos.

The Secretary General of NBF, Dapo Akinyele, in an interview with ASN disclosed that the federation had a mandate of ensuring that Nigeria was qualified for the Paris 2024 boxing events.

``We have a mandate to ensure that we are in the Olympics this time around after we missed out of the 2020 Summer Olympics in Japan.

``We have gathered our best athletes for this camp and we expect results from them, this time around we must put all machinery in place to ensure qualifications.

``Nigeria is not lacking in terms of talents, we have them in abundance, not forgetting that we have history in boxing with medals in boxing events at the Olympics.

``We will do all it takes to ensure that we succeed this time, but first thing is that we want to qualify for the Olympics first,'' he said.

The National Coach of NBF, Anthony Konyegwechie also told ASN that the boxers were in high Spirit ahead of the Olympics qualifers.

``We are training well ahead of the qualifers and the boxers are all responding well. The spirit in the team is high.

``We do have morning and evening sessions. The morning sessions start at 7 a.m to 9 a.m while evening sessions start at 4 p.m to 6 p.m.

``We have two camps; one here in Nigeria and another one in the U.K., that has two weight categories for Male 92 kg and Female 75 kg.

``The weight categories in Nigeria are female, 50 kg, 57 kg, and 60 kg, while the male has 57 kg, 63.5 kg, 71 kg, and 80 kg,'' he said.

Konyegwechie restated the need for support to the athletes, adding that adequate support to the team would enhance their performance.

``We need more support for the boxers, they need to be well motivated ahead of the qualifers in Dakar Senegal, we need some modern equipment for training.

``Nothing should derail our ambition of attending the Paris 2024; we have no excuse because of our pedigree in Africa especially with the recent bout in Yaounde, Cameroon where Nigeria came 7th.

``At the Africa Boxing Championship in Cameroon we are able to secure one gold, one silver and two bronze medals with short preparations, now, we have to perform better,'' he said.

ASN reports that the boxers are having their training inside the Gym hall of the National Stadium, Surulere, Lagos.