Edo set to host Kickboxing Championship
Posted : 10 September 2023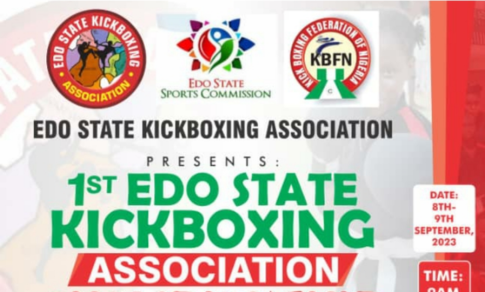 The chairman of the Edo Kickboxing Association, Owens Okperigho, has promised that his board will continue to promote the game of kickboxing in Edo State, urging parents to encourage their children's participation in the combat sport.
 
The Edo Kickboxing Association boss, Okperigho, made the promise in a remark during the closing ceremony of the maiden Edo Kickboxing Championship at the Samuel Ogbemudia Stadium, Benin.
 
Okperigho, who was excited over the encouraging turnout at the two-day kickboxing championship, highlighted the benefits of the combat sport, which include self-defense and physical health.
 
He promised that the catch-them-young process that his board just started would be sustained. He also expressed optimism that athletes that can represent Edo State and Nigeria in the future can be discovered at the grassroots level.
 
"We want to continue to encourage our children to embrace kickboxing."
"There are a lot of benefits."
 
"The state government has made the needed facilities available; our duty now is to encourage our young ones to engage themselves." Okperigho said.
 
The kickboxing championship, which began at the indoor sports hall of the Samuel Ogbemudia stadium on Friday with a seminar and orientation exercise for the registered athletes, climaxed on Saturday evening with Amanda Aye winning her first gold medal in the U-4 girls category.
She defeated her sister, Iyawe Aye. while Elvis Divine won bronze. Gabriel Etafor later won gold in the Under 13–14 boys. In the age 10–12 category, Miracle Ubimago clinched gold, Precious Akpovofene went home with silver, and Eno Gift and Victor Erabor got their first and second bronze medals, respectively.
 
In the male category of ages 10–12, Emeka Eze was declared the winner after a tough contest. Miracle Augustine came second, while Taiwo God's doing and Uwadiae Favor got the double bronze medals.