Abia State targets more wrestling development for athletes
Posted : 30 August 2023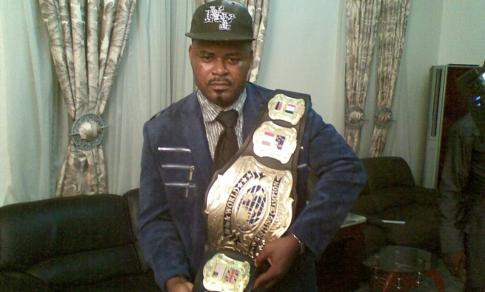 World Heavyweight Wrestling Champion Sir Dr. Osita Offor A.K.A Ultimate Commander, has confirmed his commitment towards the revival of Wrestling and other Combat Sports in Abia State.

The wrestler and philanthropist Osita Offor confirmed his commitment during his visit to the Abia State Commissioner for Sport Nwaobilor Ananaba in his office at the Ministry of Sports, Umuahia, Abia State. 

Ultimate Commander 'Osita Offor' who is also the Convener of United Abia Artistes and Patriot Forum (UAAP), revealed that his passion to improving wrestling in the state and assured members of the Sports Ministry that he would do everything to ensure that many more Ultimate Commanders in wrestling were produced in Abia State.

While giving an insight to the project, the technical adviser of Nigerian Wrestling Federation Sir Ohaike Damia, revealed that the wrestling crew would visit all the 17 Local Government Areas in Abia State for talent hunt and after which a wrestling competition tagged "Alex Otti Wrestling Classics" would be hosted.

He assured that the project would produce wrestlers  that would represent the State and country in African and World competitions if given attention.

Reacting on thier visit, the Abia State Commissioner for Sports and youth development, Sir Nwaobilor Ananaba, confirmed the readiness of the state government to develop sports and revealed that his vision was to give proper attention and develop other Sports in Abia State.

Sir Ananaba assured Ultimate Commander 'Osita Offor' and his team, that the state governor, Alex Otti has interest  in Sports, and that's why the governor was planning to rebuild the Nsulu Game Village that would have good sports facilities, training camps, Colleage of sports excellence , where Abians with sporting skills would be educated and harnessed and many other infrastructures that would add value to sports.   

The team was joined by Nollywood veteran actor, Emmanuel Ehumadu, popularly called "Labista", who also appreciated the Commissioner, Sir Nwaobilor Ananab, for his support towards the upcoming project.