2023 World Championships Day 3: Records set, upsets, and Olympic hopes
Posted : 18 September 2023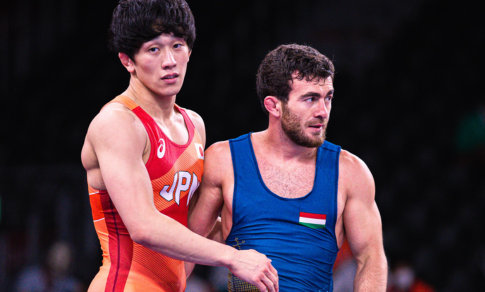 The third day of the World Championships introduced women's wrestling alongside the final two Freestyle weights, 65kg and 97kg, and the women's weight classes 55kg and 59kg were also in action. It's worth noting that Olympic weight classes offer 5 Paris Olympic quotas, with four going to the medal winners and one to the winner of the playoff involving the bronze-losing wrestlers.
 
At 59kg, former 2014 world champion Yuliia TKACH (UKR) mounted a comeback from being 4-0 down to pin Anastasiia SIDELNIKOVA (AIN) using an arm bar. In the same weight class, Qi ZHANG (CHN) dominated with a 12-0 victory over Tamara DOLLAK (HUN).
 
Iran faced a setback in the freestyle team race as Yones EMAMI (IRI), a bronze medalist from the previous year, lost to former world champion Hetik CABOLOV (SRB) in the repechage at 74kg. This not only resulted in one less medal for Iran but also meant they would miss out on the Paris Olympic berth in the weight class, though they may have another chance at the Asian qualifying tournament.
 
Sae NANJO (JPN) started her quest for her first senior world title with a win against Jowita WRZESIEN (POL), securing a 4-0 victory with takedowns.
 
Haji ALIYEV (AZE) had a quick turnaround and managed to break open a closely-fought match against Georgii OKOROKOVV (AUS) at 65kg, ultimately winning 8-2.
 
Defending champion Rahman AMOUZAD (IRI) warmed up at 65kg with a comfortable 10-0 victory over Yanisse MADI (COM), expending minimal effort in securing the win.
 
Olympic champion Takuto OTOGURO (JPN), competing in his first international match since winning gold in Tokyo, faced resistance from Islam DUDAEV (ALB) but secured a 9-2 win with three takedowns in the second period.
 
Two-time former world champion Haruna OKUNO (JPN), competing at women's 55kg due to Japan's depth at 53kg, won with a late 4-point move to defeat world U20 champion Aryna MARTYNAVA (AIN) with a score of 8-2.
 
Bolortuya KHURELKHUU (MGL) started the day at 59kg with a remarkable five-point move followed by a fall against Krystsina SAZYKINA (POL).
 
The day featured Olympic weight classes 65kg and 97kg in Freestyle, while Women's Wrestling saw non-Olympic weight classes 55kg and 59kg in action.