World Basketball Championship group stage ends with eight games, with U.S. dominating Jordan
Posted : 30 August 2023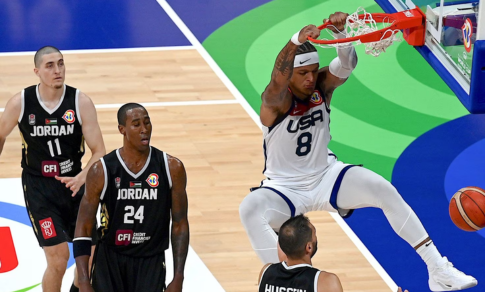 The Americans found themselves trailing 62-110, with Anthony Edwards leading the charge with an impressive 22 points. Serbia showcased their prowess with a commanding 115-83 victory, securing their position at the top of Group 2. Meanwhile, Georgia also emerged victorious in their matchup.
 
The first phase of the World Basketball Championship group stage concludes today (Wednesday) with a series of eight games across four groups. The U.S. maintained their flawless record by dominating Jordan with a commanding 48-point lead. Luka Doncic's performance is highly anticipated as he takes on Cape Verde at 14:30 p.m.
 
South Sudan vs Serbia concluded with a score of 115-83. Despite the absence of their star player Nikola Jokic, the Serbian team faced no difficulties in clinching the top position in the relatively weaker group. With an average margin of victory of 30.3 points across three games, Serbia established their dominance. The final quarter of 18:32 in favor of Serbia cemented another victory. Key players including Nikola Jovic with 25 points (9-of-9 from the field), Bogdan Bogdanovic with 23 points and 9 assists, and Nikola Milutinov with 17 points and 10 rebounds contributed to the win. Despite Dot Katzol's 21 points off the bench, South Sudan struggled to make a significant impact.
 
In the contest between USA and Jordan, the score was 62-110. Much like New Zealand and Greece, the American team faced off against Jordan and secured a substantial lead by the end of the first quarter, boasting a 12-31 advantage. This victory marked the biggest win for the U.S. in the tournament with a 48-point margin. Anthony Edwards played a pivotal role, leading Steve Kerr's team with 22 points, 8 rebounds, and 4 assists in just 18 minutes of play. On the opposing side, Rondae Hollis-Jefferson, a seasoned NBA player, contributed 20 points for the losing team.
 
Georgia faced off against Venezuela, with a final score of 59-70. Georgia managed to limit Venezuela to just 4 points in the second quarter, establishing a 19-point lead by halftime. This advantage paved the way for Georgia's victory and secured their ticket to the next round. Toko Shengelia delivered an outstanding performance, scoring 25 points—the best in his tournament journey so far. Goga Bitadze also made a notable contribution with 11 points and 11 rebounds. In contrast, Venezuela, already eliminated from contention, was led by Nestor Colmenares with 16 points.