USA secure win over Montenegro in World Basketball Championship
Posted : 02 September 2023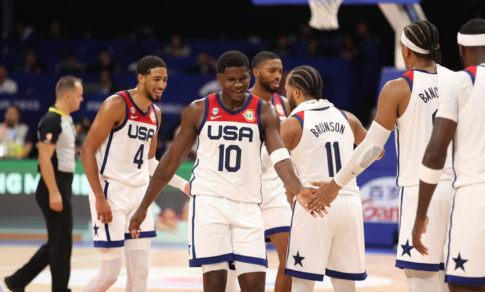 The second stage of the World Basketball Championship commenced with thrilling games. The USA secured a hard-fought victory over Montenegro, winning 85-73, despite trailing in the first half. Anthony Edwards led the Americans with 17 points. On the other hand, Montenegro was led by Nikola Vucevic's 18 points and Kendrick Perry's 14 points.
 
In Group 9, Serbia, who had a perfect record in the first stage, suffered their first defeat to Italy, 76-78. Simona Pontecchio led the Italian charge with 30 points, while Bogdanovic scored 18 for Serbia. Puerto Rico faced the Dominican Republic, with the latter triumphing 102-97 behind Tremont Waters' incredible 39 points and 11 assists.
 
In Group 10, the USA struggled initially but eventually defeated Montenegro 85-73. Lithuania faced Greece, with Greece winning 92-67, maintaining Lithuania's perfect record. Rokas Yakovitis led the scorers with 19 points.
 
Group 11 saw Germany's perfect record maintained as they defeated Georgia 100-73. Slovenia, led by Luka Doncic with 19 points, defeated Australia 91-80. In a surprising turn of events, Latvia upset Spain 74-69, despite missing key players.
 
Brazil faced Canada, and Canada's perfect run was halted as Brazil won 69-65. Bruno Caboclo shone with 19 points and 13 rebounds. Shaye Gilgeous-Alexander scored 23 points for Canada. The results set the stage for a competitive next round in the championship.