Serbia win the FIBA 3x3 Europe Cup 2023, securing their fifth consecutive title, with MVP Strahinja Stojacic leading the way, despite close contests
Posted : 08 September 2023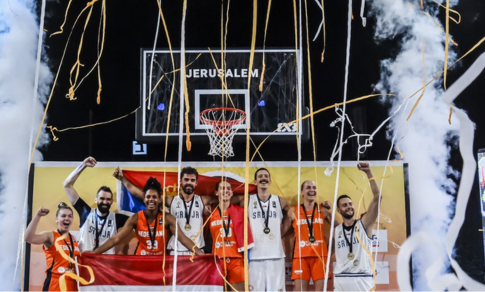 The FIBA 3x3 Europe Cup 2023 showcased thrilling basketball action in historic Jerusalem from September 5-7. Serbia continued their dominance, securing their fifth consecutive title with MVP Strahinja Stojacic leading the way. Despite close contests in every game, Serbia went undefeated in the tournament, setting the standard for men's 3x3 basketball.
 
On the women's side, the Netherlands achieved their long-awaited victory, overcoming Spain in a hard-fought final. Noortje Driessen emerged as the MVP, signaling a potentially golden era for Dutch women's 3x3 basketball.
 
Lithuania left their mark with two medals, a silver in the men's category and a historic bronze in the women's competition. Aurelijus Pukelis shone for the men's team, earning a spot in the Team of the Tournament. Meanwhile, Kamile Nacickaite showcased her sharpshooting skills for the women's side.
 
Latvia's Karlis Lasmanis played the role of a superhero, guiding his team to a bronze medal despite the absence of key players. Latvia continued to assert their status as a basketball powerhouse.
 
Portugal's women's team impressed with their strong performance, reaching the fourth-place finish, their best-ever result. They stunned defending champions France in the quarterfinals, showcasing their potential as a rising force in women's 3x3 basketball.
 
Jerusalem served as an excellent host for the event, with a growing number of 3x3 fans in attendance. The historic destination added to the charm of the Europe Cup, highlighting Israel's growing impact in 3x3 basketball.
 
Overall, the FIBA 3x3 Europe Cup 2023 delivered thrilling basketball action and showcased the talents of European teams, setting the stage for future competitions.