Lithuania and Serbia face off in FIBA World Cup 2023 quarter-finals
Posted : 04 September 2023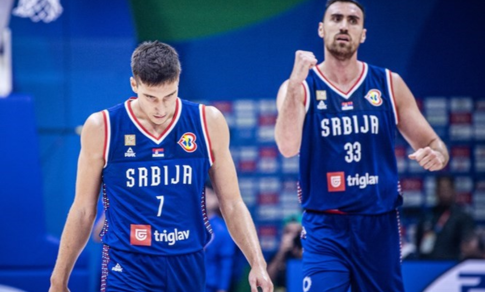 Two European basketball powerhouses, Lithuania and Serbia, are set for an intense Quarter-Finals clash in Manila during the FIBA Basketball World Cup 2023.
 
Key Matchup: The matchup to watch features two outstanding centers. Nikola Milutinov, often considered one of Europe's best centers over the past five years, is averaging 14.0 points, 9.6 rebounds, and 1.0 block in just 25.0 minutes per game. He faces a formidable challenge in Jonas Valanciunas, the Lithuanian center who averages 13.6 points, 9.2 rebounds, and 1.2 blocks in only 20.6 minutes per game. Expect powerful and intense battles in the paint.
 
X-Factors: Bogdan Bogdanovic, a lethal scorer when wearing the Serbian jersey, could take on a significant offensive role, possibly achieving a points-assists double-double by the end of the game. For Lithuania, Rokas Jokubaitis has been crucial to their offense throughout the tournament. As the stakes rise, his role is expanding, and his playmaking skills have been instrumental in Lithuania's success.
 
Stats Don't Lie: Serbia is likely to push the tempo, with an average of nine steals per game, 25.2 points from turnovers, and 22.8 fast-break points. Lithuania's key statistic to watch is their three-point shooting, as they are shooting an impressive 46.4 percent from beyond the arc, the highest in the tournament. Serbia is also strong from three-point range, hitting 37.6 percent of their attempts.
 
Past Matchups: Lithuania and Serbia have met only once in FIBA Basketball World Cup history, in 2010, with Lithuania winning 99-88 in the Third Place Game in Istanbul. In FIBA EuroBasket, they faced each other four times between 2009 and 2015, resulting in a 2-2 score. When considering games against FR Yugoslavia/Serbia and Montenegro, Lithuania has one win and three losses in FIBA EuroBasket. They also have one win each in the Olympic Games in 1996 and 2000.
 
Lithuania head coach Kazys Maksvytis emphasized the need to save energy and emotions for the upcoming game against Serbia after a significant win over the USA.
Serbia head coach Svetislav Pesic acknowledged the challenge posed by Lithuania and stressed the need for excellent performance in both defense and offense. He expects a demanding game requiring maximum concentration.