Josh Giddey wins inaugural Wanda Rising Star Award at FIBA Basketball World Cup 2023
Posted : 11 September 2023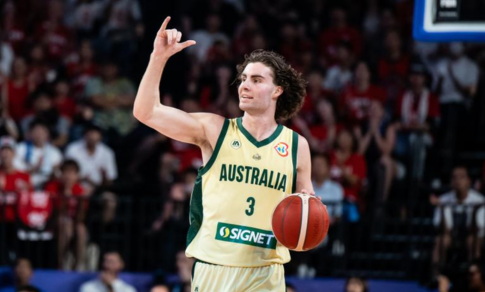 In a remarkable debut season, 20-year-old Josh Giddey has clinched the prestigious Wanda Rising Star Award at the 2023 FIBA Basketball World Cup.

This coveted accolade, presented by FIBA's Global Partner, Wanda Group, marks a significant milestone for the Australian point guard. Throughout the tournament, Giddey showcased his exceptional skills, averaging an impressive 19.4 points, 6.0 assists, and 5.0 rebounds per game for the Boomers. In the annals of the FIBA Basketball World Cup history, only six players, including legends like Drazen Petrovic, Wilfredo Ruiz, Kevin Durant, Yao Ming, John Lucas, and Leo Rautins, have exceeded Giddey's scoring output before turning 22 years old.

Giddey not only led his team in points and assists per game but also emerged as one of the standout players in the entire World Cup.

Despite his youth, the 6'8" point guard made an immediate impact, tallying 14 points, 9 rebounds, and 8 assists against Finland in the tournament opener. This performance placed him in the elite company of players like LeBron James, as only the second player in the 21st century to record more than 10 points, 5 rebounds, and 5 assists in their debut World Cup game.

Giddey's standout performance came in the victory against Japan, where he posted an impressive 26 points on 10-of-18 shooting, accompanied by 11 assists and 5 rebounds. This stellar display earned him the TCL Player of the Game title.

While there were several promising young talents in contention for the award, such as Nikola Jovic, Paolo Banchero, Usman Garuba, Juan Nunez, and Jean Montero, Giddey outshone them all, establishing himself as the brightest prospect at the 2023 FIBA Basketball World Cup.

The criteria for the Wanda Rising Star Award dictated that candidates must be 21 years old or younger (born in 2002 or later) and participate in a minimum of four games during the competition. Selection was based on individual performances and the overall impact on their respective teams.