James Harden seeks appeal to reduce fine
Posted : 23 August 2023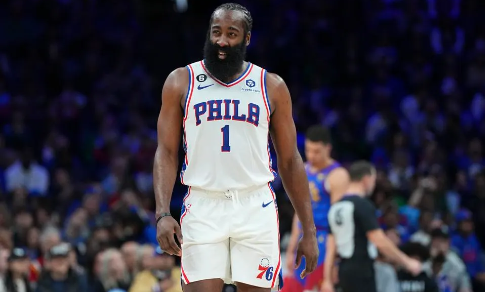 Following his public criticism of Philadelphia Sixers' basketball president Daryl Morey, star player James Harden, aged 34, is aiming to use an appeal to mitigate the severe fine imposed upon him by the league. The fine, amounting to no less than $100,000, resulted from Harden labeling Morey a "liar" during a recent campaign in China. Harden is now receiving support from the players' association, who are planning to challenge the punishment through an appeal.
 
In a significant development, Harden conveyed on Tuesday night that he has no intentions of fulfilling his contract obligations with the Philadelphia Sixers and is actively seeking a trade to another team. The controversy escalated when Harden openly criticized Morey, branding him a "liar" and explicitly stating his desire to discontinue playing for the Sixers. These remarks have intensified the ongoing discord between Harden and the team, reaching a point where an appeal by the players' association has become a pivotal step.
 
The situation originated from Harden's decision to exercise his exit option from the Sixers, which would have entitled him to a $35 million salary for the upcoming season, followed by his transition into free agency. Harden's discontent likely stems from his belief that Morey is not honoring their mutually agreed-upon arrangement.
 
Harden's preference appears to be a trade to the Los Angeles Clippers. When trade discussions encountered obstacles, reports emerged suggesting that the Sixers were determined to retain the 34-year-old player. Despite Harden's vocal stance, his prospects of departure remain uncertain until a trade agreement is reached. Should he choose not to participate, he risks compromising his status as a potential free agent.
 
The challenges for Philadelphia have been compounded by the uncertainty surrounding another star player, Joel Embiid. Embiid, the team's prominent center, has expressed a lack of interest in continuing with the team for another season. This further adds to the team's tumultuous summer, as they navigate the potential departures of key players. 
 
Embiid holds a pivotal role within the Sixers' lineup and was named the NBA's Most Outstanding Player of the Season for the first time in his career during the previous season. His notable statistics for the 2022-23 season include averages of 33.1 points, 10.2 rebounds, and 4.2 assists per game.