Injury blow for Latvia: captain Bertans bows out for rest of the World Cup
Posted : 29 August 2023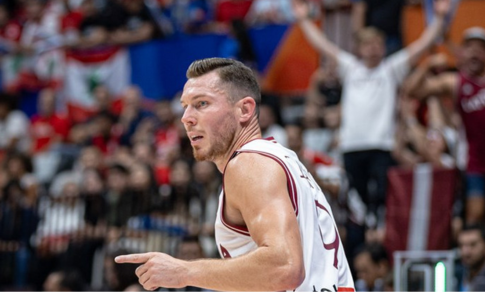 Latvia's shooting guard and team captain, Dairis Bertans, faces a disappointing setback as he is forced to withdraw from the FIBA Basketball World Cup 2023 due to a hamstring injury.
 
The seasoned athlete and elder Bertans brother has sustained a left hamstring tear, sidelining him for an estimated 5 weeks, as reported by the Latvian Basketball Association. The injury was incurred during a crucial moment in the second quarter of Latvia's historic victory over France.
 
Despite the unfortunate turn of events, Bertans, a seasoned veteran with a remarkable history in four FIBA EuroBasket tournaments, has made it clear that he remains committed to the team's cause. He will continue to contribute from the sidelines, supporting his teammates as they navigate through the group phase and advance to the Round of 16.
 
In response to this setback, FIBA extends its well-wishes for a swift recovery to Dairis Bertans, hoping for his prompt return to the court in full form.