FIBA Basketball World Cup 2023: Tominaga's faith in Japan's resilience led to comeback victory
Posted : 28 August 2023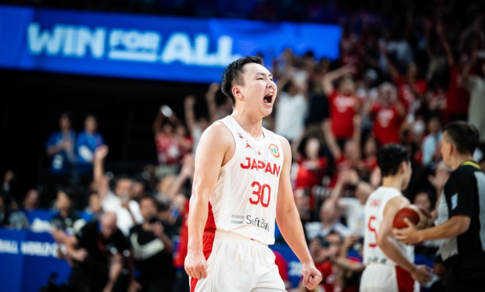 Keisei Tominaga's unwavering faith in Japan's resilience was rewarded with a stunning comeback victory in the FIBA Basketball World Cup 2023. Facing an 18-point deficit against Lauri Markkanen-led Susijengi, Akatsuki Japan found themselves trailing 71-53 in the third quarter. Tominaga, the young shooter, maintained his belief that they had the ability to turn things around.
 
Their confidence proved true as they mounted an impressive rally. Overcoming the deficit, they stormed back in the final chapter with a remarkable 35-point surge, securing a monumental 98-88 victory – the most significant comeback of the tournament so far. The sold-out Okinawa Arena was filled with emotions as Japan claimed their first World Cup win since 2006, bolstering their chances of advancing to the Group Phase's Second Round.
 
Tominaga played a crucial role in the turnaround, contributing 17 points, including a pivotal five points during the team's essential 10-2 run that ignited their comeback. His performance, along with his teammates', propelled Japan to a decisive 87-78 lead with 2:40 remaining.
 
The victory held immense significance for Tominaga and the team, showcasing their trust in each other and their collaborative effort. Being labeled as underdogs in the challenging "Group of Death" alongside Germany, Australia, and Finland, Japan has risen above expectations and now stands just one step away from progressing to the next round. They are set to face Australia, with Tominaga expected to lead the charge, building on his impressive performance against the Olympic bronze medalists in the FIBA Asia Cup 2022 Quarter-Finals.
 
Although Japan had previously given Australia a tough fight, Tominaga acknowledges the changing dynamics of their opponent. To secure another upset victory, he emphasizes the importance of replicating their teamwork and execution from the Finland match, aiming to play their best basketball for the full 40 minutes.
 
Keisei Tominaga's determination and skill have propelled Japan to an unexpected position of strength in the tournament, and they are poised to continue their remarkable journey against formidable opponents.