FIBA Basketball World Cup 2023 Introduces New Awards: Best Defensive Player, Best Coach, and All-Second Team Recognitions
Posted : 11 September 2023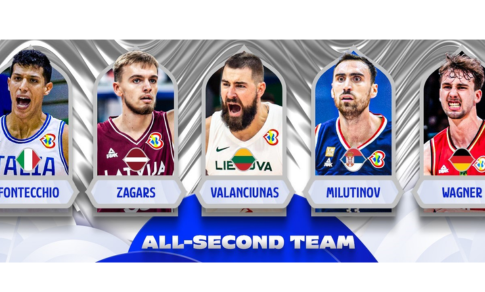 The FIBA Basketball World Cup 2023 introduced new awards, including the Best Defensive Player, Best Coach, and an All-Second Team, marking a significant development in this men's national team competition.

The All-Second Team recognition is awarded to outstanding players from the tournament. Among them are Arturs Zagars of Latvia, Simone Fontecchio of Italy, Jonas Valanciunas of Lithuania, Nikola Milutinov of Serbia, and Franz Wagner of Germany.

Arturs Zagars, the point guard for Latvia, played a crucial role in his team's success. With his leadership, Latvia secured a remarkable 5th place finish. Zagars averaged 12.4 points and 7.4 assists per game and notably set a World Cup record with 17 assists and 0 turnovers against Lithuania.

Simone Fontecchio of Italy continued to showcase his scoring prowess, maintaining his status as one of the world's best scorers. He averaged 18.0 points and 5.6 rebounds per game, with a standout 30-point performance against Serbia during a comeback victory.

Jonas Valanciunas, representing Lithuania, displayed a combination of reliable low post scoring and dominant rebounding. He contributed with 14.8 points, 8.8 rebounds, and 1.3 blocks per game, including a memorable victory against the USA. Valanciunas is now one of only two players, alongside Jose Ortiz, to record multiple double-doubles in three World Cup tournaments since 1994.

Nikola Milutinov played a consistent role in Serbia's journey to the finals. The 28-year-old center was a key frontcourt option, averaging 12.1 points and 8.4 rebounds per game. His impeccable execution of fundamentals was highlighted by his impressive 66.1% shooting from the field.

Franz Wagner of Germany overcame an ankle injury during the World Cup and continued to perform at a high level. He contributed 16.8 points, 6.5 rebounds, and 3.0 assists per game. Wagner played a pivotal role in elimination games, including a 22-point performance against the USA in a memorable triumph.

Dillon Brooks earned the title of Best Defensive Player for his exceptional defensive contributions to Canada, who secured the Bronze medal. His physical one-on-one defense against elite opponents like Luka Doncic and Evan Fournier played a crucial role in Canada's victories. He was also part of one of the tournament's top defensive units.

The Best Coach award went to Latvia's head coach, Luca Banchi. He not only guided Latvia to a remarkable 5th place finish in their first-ever World Cup but also led the team to an impressive 21-3 record since taking over before the World Cup Pre-Qualifiers. Banchi's coaching philosophy emphasized beautiful basketball with an average of 24.4 assists per game, and his team successfully faced some of the world's best players.