FIBA Basketball World Cup 2023: Dennis Schroder faces challenges, Franz Wagner's return helps overcome setbacks
Posted : 06 September 2023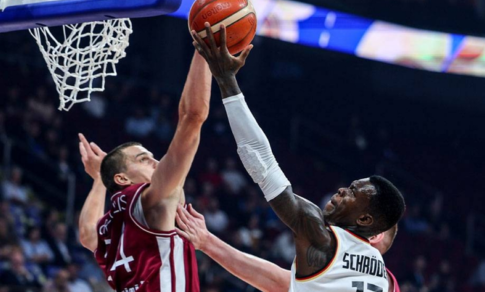 Schroder expressed his happiness with Wagner's return and said it was crucial for Germany to win the game. With Schroder's struggles behind them and Wagner back on the court, Germany can now focus on making history.

In a surprising turn of events, Germany's star leader, Dennis Schroder, faced a formidable challenge at the FIBA Basketball World Cup 2023. Fortunately, the team found salvation in the impeccable timing of Franz Wagner's return to the court.
 
Schroder struggled mightily, contributing just 9 points on 4-of-26 field goal attempts and accounting for 4 of the team's 8 turnovers. However, Germany managed to overcome these difficulties in a heart-pounding 81-79 victory over Latvia, securing their place in the Semi-Finals for the first time since 2002.
 
The hero of the day, Franz Wagner, played a pivotal role in this triumph, delivering a remarkable performance with 17 points, 8 rebounds, and 3 assists. This game marked his return to the court after his initial appearance in the tournament's opening match against Japan, where he showcased his talents with 10 points, 6 rebounds, and 5 assists before sustaining an ankle injury.
 
Reflecting on his comeback, Franz expressed his joy, saying, "My first game back was a bit challenging at the end, but I was genuinely thrilled to be out there with my teammates and thoroughly enjoyed it."
 
Franz entered the game after the first 4 minutes when Germany found themselves trailing. He ultimately played for 24 minutes, sharing time with both the first and second units. Germany's head coach, Gordie Herbert, acknowledged Franz Wagner's significant impact, especially when he joined the second group, stating, "I believe that Franz Wagner truly uplifted us during the moments he played, particularly at the end of the first quarter and the start of the fourth."
 
Franz's older brother, Moe Wagner, expressed his delight at having him back on the court, emphasizing how Franz's presence made the game more enjoyable and effective. Moe himself contributed 12 points and 4 rebounds in 18 minutes off the bench and even engaged in numerous pick-and-roll sets with his brother, Franz.
 
"As a teammate, I'm thrilled because he simplifies things and helps us win games," Moe exclaimed. On a personal level, he added, "As a brother, I'm ecstatic to see him smiling and relieved. Dealing with injuries is emotionally draining, not knowing when you'll make a comeback. Witnessing him play the way he does, pursuing what he loves and excels at, is truly incredible."
 
Schroder, despite his tough performance, also expressed his happiness regarding Franz Wagner's return, recognizing its significance in their victory. He commented, "Having Franz Wagner back was truly crucial, and it played a major role in our win."
 
With Dennis Schroder putting his challenging game behind him and Franz Wagner back in action, Germany can now shift their focus towards making history. They have a golden opportunity to reach the World Cup Final for the first time, provided they can overcome the United States in their upcoming match.