Canada win FIBA 3x3 Women's Series Montreal Stop 2023
Posted : 04 September 2023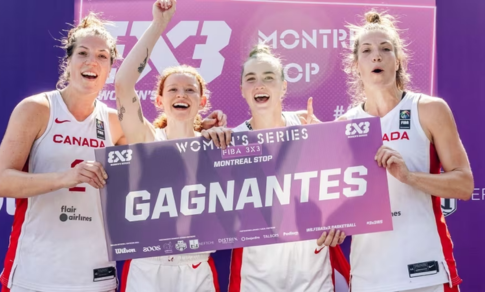 Canada defended their home soil in the FIBA 3x3 Women's Series Montreal Stop 2023 by defeating USA U24 with a score of 21-12. Canada, featuring the core four of Michelle and Katherine Plouffe, Paige Crozon, and Kacie Bosch, aimed to win their fifth Stop in this season.
 
Their journey began with convincing wins against New Zealand and Poland. The Plouffe sisters showcased their skills, contributing 14 points in the opener, while Crozon added 7. Against Poland, Crozon dominated with 12 points, leading Canada to victory.
 
In a marquee clash, Canada faced USA U24, led by Hailey Van Lith and Cameron Brink. The game became a physical battle, with Brink and Michelle Plouffe going head-to-head. Despite the strong opposition at the rim, Canada secured a 10-15 victory.
 
Canada continued their dominance in the Semi-Finals against USA, with Michelle Plouffe grabbing 13 crucial rebounds in a 13-9 victory.
 
In the final, USA U24 aimed to avenge their previous loss to Canada in Quebec. The game remained close early on, with Michelle Plouffe making key three-pointers. However, fouls started taking a toll on the Americans, allowing Canada to pull ahead. Michelle Plouffe's impressive performance, finishing as the event's top player in various categories, secured Canada's fifth stop win.
 
Final Standings:
1. Canada
2. USA U24
3. Germany
4. USA
5. Romania
6. New Zealand
7. Chile
8. Poland
 
The FIBA 3x3 Women's Series culminates in the Ulaanbaatar final on September 16-17.