Canada competes in FIBA 3x3 Women's Series Montreal Stop 2023
Posted : 02 September 2023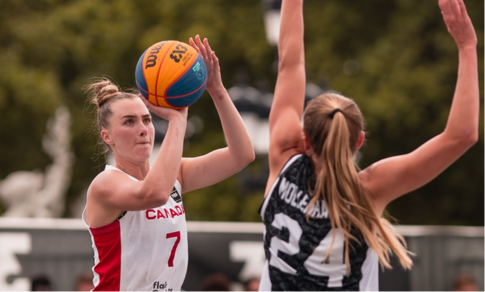 Canada, boasting an impeccable home record, seeks to solidify their status as this season's most successful team in the FIBA 3x3 Women's Series Montreal Stop 2023 on September 2-3. The reigning champions have triumphed in every Stop held in their homeland, consistently displaying their unstoppable prowess on the court.

Their dominance is particularly evident when the Plouffe sisters take center stage, a scenario that will unfold in Montreal. Joining them are the sharpshooting Paige Crozon and defensive stalwart Kacie Bosch.
 
The dynamic duo of Michelle and Katherine Plouffe's physicality and synergy propels them as perennial favorites in every competition. When you combine this with the scoring finesse and perimeter presence of Bosch and Crozon, it's evident why Canada is poised to secure a record-setting fifth Stop win this season.

Despite joining the series late this season, they have showcased the championship mentality that defines them. Fueled by momentum, they are eager to continue their winning streak heading into Ulaanbaatar.
 
While there are only eight teams competing in this stop, the competition is fierce. The USA U24 squad returns to the court led by the dynamic duo of Hailey Van Lith and Cameron Brink. Madison Scott and Leilani Kapinus, who previously competed alongside Van Lith in the Nations League, will reunite with her. In that competition, they were virtually unstoppable.

Brink and HVL were part of the squad that pushed Canada to their limits but narrowly missed out on victory in the final in Quebec. They will have another shot at redemption in Montreal.
 
Germany, who narrowly lost to the American team in the semi-finals amidst the intense competition between Canada and USA U24 in Quebec, will aim to make a statement in Montreal. This season has been marked by near misses for the German squad, as they have yet to secure a stop win. They came close in Baku, finishing as runners-up to Düsseldorf ZOOS.

The trio of Svenja Brunckhorst, Sonja Greinacher, and Luana Rodefeld will take the court, joined by the debutant Elisa Mevius. Despite her youth at just 19, Mevius brings valuable 3x3 experience and aims to provide the spark that Germany needs to build momentum heading into Mongolia.
 
The USA will also field their primary team, led by Cierra Burdick. With Camille Zimmerman and Caroline Littlefield contributing scoring firepower and the presence of Blake Dietrick, they remain a formidable and feared team.

Their two stop wins this series have showcased their clinical execution, relying on remarkable team-oriented plays. Possessing a well-balanced blend of fundamental skills and size, they consistently pose a significant threat.