16-year-old Kaman Maloch makes history at World Basketball Championship
Posted : 29 August 2023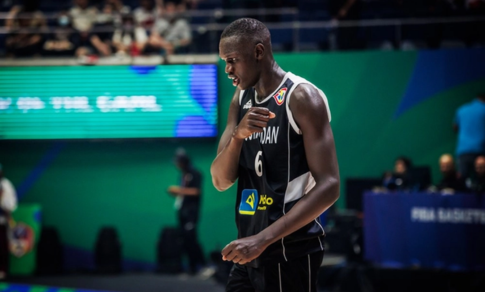 A historic moment unfolded at the World Basketball Championship as South Sudan marked its tournament debut with an exhilarating victory over China, triumphing 89-69 and keeping their qualification hopes alive for the next stage. This victory, however, was only the tip of the iceberg when it comes to the remarkable history made. Coach Royal Ivey seized the opportunity to introduce Kaman Maloch, a 16-year-old prodigy standing at an impressive 2.18 meters tall, into the game. This strategic move etched Maloch's name in the annals of the championship's history, as he became the third-youngest player ever to grace the tournament's stage.
 
While notable names like Georges Lat of Ivory Coast (16 years and 3 months in 1986) and Gao Ayalon of China (16 years and 9 months in 2010) share the distinction of youthful debuts, Maloch's emergence is underlined by a widespread recognition of his immense talent. The enthusiastic teenager's 17-minute contribution showcased his versatility, yielding one point, six rebounds, two blocks, and a notable assist. His performance offered glimpses of why he is regarded as one of the most captivating talents worldwide within his age group.
 
Maloch's journey began with early recognition of his potential, leading him to join the NBA Academy in Senegal. A standout performance at the Basketball Without Borders tournament in South Africa, where he earned the title of MVP, unveiled an array of skills uncommon for a player of his towering stature, including his prowess in ball movement and shooting from beyond the arc.
 
Lual Deng, president of the Sudanese Football Association and a legendary former player, shared his optimism for Maloch's future, stating, "His future is bright, everyone sees it." Speaking to Maloch's potential, Deng continued, "He's going to be a huge player, and it's exciting that people will get to watch him at the World Championships. It will be a great experience for him. He has an excellent feel for the game and an exceptional skill set. At the same time, he still needs to improve most aspects, as you would expect from a 16-year-old."
 
Deng's praise extends beyond Maloch's on-court abilities. "That's what's so scary about him – he has a lot of room to improve, but he's always in a great mood, always smiling and wanting to learn. Everyone likes to be around him, and that's why it was easy to call him up to the national team."
 
With the 2025 NBA draft on the horizon, Maloch's potential has garnered the attention of prestigious institutions. He has received scholarship offers from Duke, UCLA, and Georgetown. While his future in the NBA seems promising, Deng underscores the importance of nurturing Maloch's development without undue pressure. "He doesn't have to worry about the draft right now, I don't want to put that pressure on him."
 
South Sudan, a nation that gained independence in 2011 and entered FIBA in 2013, celebrated their historic victory over China with elation. Noni Umut, who scored 14 points, encapsulated the sentiment, expressing, "It's an amazing feeling, people don't understand the journey behind this achievement." Deng, a pivotal figure in the team's formation and also an assistant coach, earned praise from head coach Abie, who labeled him the "heart and soul" of the journey. Abie attributed the team's presence on the world stage to Deng's visionary approach, emphasizing, "He had a vision, and now we're at the World Championships."