World Athletics Championships Budapest 200m medals: Hughes missed medal, Lyles and Jackson win gold
Posted : 26 August 2023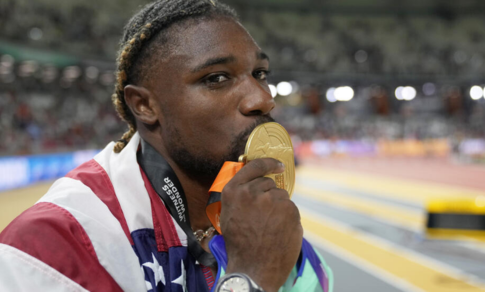 In Budapest, Britain's Zharnel Hughes missed out on a medal in the 200m race as Noah Lyles completed an impressive sprint double and Shericka Jackson secured gold in the women's event. Hughes, who had previously won a bronze in the world 100m, finished fourth with a time of 20.02 seconds. Lyles clinched victory in 19.52 seconds, followed by Erriyon Knighton in second place and Letsile Tebogo taking the bronze.
 
In the women's 200m, Jackson defended her title with a dominant performance, setting a championship record time of 21.41 seconds, the second-fastest in history. Gabrielle Thomas and Sha'Carri Richardson, both from the United States, secured second and third places, respectively. British athletes Daryll Neita and Dina Asher-Smith finished fifth and seventh.
 
Earlier, Britons Keely Hodgkinson and Jemma Reekie advanced to the women's 800m final with victories in their respective heats. Noah Lyles is on track to achieve his goal of winning all three gold medals at the championships, with the men's 4x100m relay yet to be decided.
 
Lyles not only retained his 200m title but also accomplished a remarkable three-peat, becoming the first man since Usain Bolt in 2015 to win both sprint titles at the world championships. Despite not breaking the world record, Lyles solidified his position as the world's top sprinter.
 
While Hughes missed a medal opportunity, his fourth-place finish added to his accomplishment of being the first British man to reach the 100m podium in 20 years. He expressed determination to return stronger next year.
 
Shericka Jackson demonstrated resilience by claiming victory in the 200m after settling for silver in the 100m. Jackson emphasized her goal of winning both sprint events and expressed satisfaction with her performance.
 
Daryll Neita's fifth-place finish and personal bests in the 200m showcased her progress, while fellow British athlete Dina Asher-Smith faced challenges in both the 100m and 200m, unable to contend at the front of the races.
 
Keely Hodgkinson secured a place in the women's 800m final after a strong semi-final performance, positioning her as a contender for her first global title. The 4x100m relay teams for Great Britain also progressed, both the men's and women's teams reaching the next stage of the competition.
 
The event witnessed dramatic outcomes in the women's triple jump and javelin finals, where Yulimar Rojas and Haruka Kitaguchi claimed gold with final-round attempts. Rojas secured her fourth consecutive triple jump world title, while Kitaguchi triumphed in the javelin event.